Illuminati Instruments Revolutionizes Light and Color Metering Technology for Photography and Cinema
Press Release
•
updated: Aug 22, 2017
Illuminati Instrument Corp, the manufacturer of the first Bluetooth connected exposure/color meters for photographers and filmmakers, has announced a special pre-launch offer.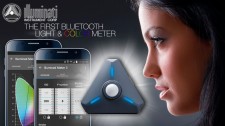 SANTA CLARA, Calif., August 22, 2017 (Newswire.com) - Most photography and filmmaking require measurement and control of lighting on the scene. Often it can be time-consuming with questionable accuracy based on the metering equipment being used. Illuminati has solved these challenges with the first Bluetooth connected color and light meter for both photography and cinema. The Illuminati meter is currently available at a special $50 discount for pre-launch orders anticipated to ship in the September/October time frame.
The product was first introduced to the market in Las Vegas at the WPPI convention followed by the NAB show in April. Response from both the photographic and cinema industries has been extremely favorable. Following an incredibly successful Kickstarter campaign, which ended in May, manufacturing is now underway for the first shipments.
I never thought there could be something that enhances my productivity.

Tony Corbell, Lighting Evangelist, Photographer and Educator
While using the meter outdoors late in the day, noted lighting educator and photographer, Tony Corbell commented:
"I never thought there could be something that enhances my productivity. Late in the day, the light is changing, but I get live monitoring of changes in the scene on my phone and my smartwatch without ever needing to take another meter reading!"
Photographers and filmmakers interested in ordering their Illuminati meters can order online at https://goo.gl/qXGFB1. The limited time pricing is strictly a pre-launch special at $249 and will end on Sept. 4, 2017.
"By applying the latest technology, we are able to bring a significant improvement in productivity while shooting, and at the same time bring down the cost of light and color measurement," said Illuminati founder, Michael Okincha. "The truth is, whether in the studio or outdoors as photographers or filmmakers, artists will never be surprised by the light again!"​
About Illuminati Instrument Corp.
Founded by CEO and accomplished engineer Michael Okincha, the technology developed for the Illuminati meter creates an outstanding foundation for other products and software in support of photography and filmmaking.
Okincha is an industry veteran with 20 years experience in digital camera design for professional, scientific, medical and consumer applications. He founded Peripheral Vision in 2010 as a leading camera design engineering services firm. Already developing and marketing light and color meters in the scientific and image quality markets, Peripheral Vision has established a solid foundation for Illuminati's success and future growth.
For more info contact Rudy Guttosch at rguttosch@illuminatiinstrumentcorp.com.
Source: Illuminati Instrument Corp.
Related Media