IHI, Inc. Selected as Supplier in Grid Resiliency and Solar Firming Energy Storage Project in Massachusetts
2MW/4MWh Energy Storage System Commissioned by Braintree Electric Light Department with Borrego Solar
Press Release
-
updated: Feb 21, 2018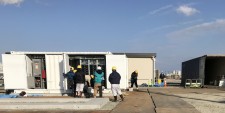 BOSTON, February 21, 2018 (Newswire.com) - IHI, Inc. is partnering with Borrego Solar Systems to implement a 2MW/4MWh storage system for the Braintree Electric Light Department (BELD) with a grant from the Massachusetts Clean Energy Center (MassCEC) through the Advancing Commonwealth Energy Storage (ACES) program.
The system is intended to help decrease BELD's capacity and transmission costs by improving resiliency and efficiency, providing key benefits to ratepayers. Additionally, the system will demonstrate how coupling energy storage with distributed solar generation can decrease system load during peak hours, store excess solar generation, and increase the amount of distributed energy resources that can be hosted on the distribution system. The energy storage division of IHI, Inc. (hereafter IHI Energy Storage) will provide hardware and software for the energy storage system.
"IHI Energy Storage is a great choice for this project, with advanced control software and sophisticated system engineering capabilities which enable us to control the system with the flexibility we require," explains, Bill Bottiggi, general manager at BELD. "We are excited to leverage IHI's technology to provide taxpayers with a high return on the project."
The system commissioning is targeted for June 2018. ESWare™, the proprietary operation software from IHI Energy Storage, is the key to the project. The software provides BELD with hands-on control and operation of the energy storage system through IHI's web-based platform ES/Pilot™, as well as various autonomous control options. After reviewing the functionality and capabilities of ES/Pilot™ in the test case run at Tucson Electric Power (TEP), BELD selected ES/Pilot™ for implementation in a similar use-case. IHI Energy Storage will be procuring a Samsung SDI Li-ion battery and a Power Electronics inverter, as well as offering their proprietary software for the project.
"We're happy to be a part of an influential test system in Massachusetts, which is leading the development of clean energy and where part of our team is located," commented Toshiaki Nishio, managing director of IHI Energy Storage. "IHI Energy Storage is looking forward to demonstrating the impact energy storage can have on renewable energy generation in the Commonwealth, and we're looking forward to partnering with Borrego Solar and BELD to do so."
IHI Energy Storage is a mission-driven organization dedicated to increasing grid resiliency and improving the efficiency of renewable energy generation internationally. IHI Energy Storage is leveraging industry expertise and advanced software to develop this energy storage system.
About IHI:
IHI has been a leader in the industrial manufacturing sector since 1853. Originally a shipbuilding company, IHI has expanded into various spheres of industry such as energy, industry and infrastructure, and sustainability. IHI's global experience and expertise provide bankability and support to its various subsidiaries and sister companies, all working under the corporate message of "Realize your dreams," describing IHI's mission to help bring society to new levels of technological advancement.
About IHI Energy Storage:
IHI Energy Storage is a Chicago-based subsidiary of IHI, Inc., New York, and provider of energy storage system solutions centered around the ESWare™ software suite, an end-to-end solution. As a systems integrator, IHI provides energy storage solutions for both front of the meter and behind the meter applications. IHI's solutions include adaptive, real-time operation software, technology agnostic system designs, and autonomous operation capabilities, with support from its 160-year-old parent company, IHI Corporation, Tokyo.
For more information, please visit www.ihi-energystorage.com.
Press contact: Licole Paroly, IHI Energy Storage, lparoly@ihies.com (617-806-6824).
IHI, Inc. is a registered trademark of IHI Corporation. All Rights Reserved. Other product or service marks mentioned herein are the trademarks of their respective owners. ©2016 IHI, Inc.
Source: IHI Energy Storage
Share:
---
Categories: Energy, Alternative Energy
Tags: clean technology, energy grid, energy storage, grid resiliency, simulation, software, solar, solar plus storage
---
Related Files
Additional Links