Igloo Introduces a Modern Automatic Cat Litter Box That Makes Both Cats and Owners Happy
Press Release
-
updated: Mar 31, 2020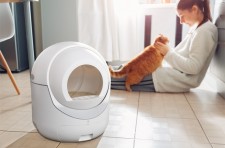 Today Igloo Designs, a pet care company making innovative products that add smart tech to pet accessories announced the launch of the Igloo Automatic Modern Cat Litter Box. This new cat litter box takes the mess and odor out of the equation for cat owners and is available now on Indiegogo. Learn more here:
https://www.indiegogo.com/project/preview/e377b122#/
WALNUT, Calif., March 31, 2020 (Newswire.com) - Igloo was designed to free users from the unpleasant and time-consuming chore of scooping. It uses a more convenient and sanitary method. The litter box detects and recognizes when the cat is using the box, waits an appropriate time after the deed is done and then initiates an automatic cleaning cycle that scoops the waste and funnels it into a tightly sealed receptacle within the device. For owners the process is automatic and unseen, Igloo does all the dirty work. The owner simply needs to remove the sealed waste bag about once a week and throw it away. Because the system is fully enclosed and cleaning cycles occur regularly, the result is an odor free environment around the box and a hassle free experience for the pet owner.
"Cat lovers are known for their devotion to their feline friends but no one likes to clean and maintain cat litter boxes. As pet owners ourselves we knew there was a better way to make the process more sanitary and convenient. With smart technology built in, Igloo makes cleaning up after your beloved cat as simple as pushing a button. Now, busy people can get the job done faster and with less mess and no odors. It's a revolutionary change that users will appreciate." Roger Wu, CEO, Igloo Design
The Igloo cat litter box is easy to setup and use. It connects via Wi-Fi and works with a companion app to set modes and automatic cleaning cycles. The app also sends push notifications if there are any problems or the unit needs emptied.
One of the most important features of Igloo is the ingenious cat recognition sensor that detects whether a cat is entering or exiting the box. If the cat hops into the box during a cleaning cycle, Igloo will pause the cycle automatically. The cycle will also stop if any obstruction is detected making it 100% safe for cats. The sleek looking modern design cat box can be used for households of up to 3 cats.
For pet owners who love their cat but dread the messy cat litter problem, the Igloo modern cat litter box is the perfect answer for an odor-free house and a hands-off cleaning experience. This modern take on the cat litter box is available now on Indiegogo with special deals and discounts for early adopters. To learn more visit the Igloo campaign page: https://www.indiegogo.com/project/preview/e377b122#/
Media Contact: hello.igloo.ct@gmail.com
Source: Igloo
Share:
---
Categories: Consumer Electronics
Tags: Cat, Crowdfunding, Litter Box
---