IFAM Gathers the World's Finest Folk Artists at Annual Market in Santa Fe
Press Release
•
Jun 14, 2023
IFAM reemerges at a new location in Santa Fe Railyard Park.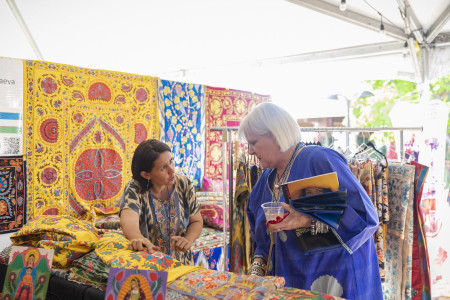 SANTA FE, N.M., June 14, 2023 (Newswire.com) - The International Folk Art Market is celebrating its 19th year and change is afoot. This year, the annual market is moving from its longtime home on Museum Hill to the Railyard Park. "The move has a lot to do with the artists," says IFAM CEO Melissa Mann. "They have heard about Santa Fe — and they want to get out, walk around town and explore the city. The Railyard, in terms of its accessibility, is unique in Santa Fe. The location is walkable, there is a bike path, lots of parking and the Railrunner is going to drop people off from Albuquerque directly into the venue."
July's International Folk Art Market will be the largest group of global artists to participate in the market's 19-year history. 168 artists from 52 countries and territories will converge in Santa Fe commencing on Wednesday, July 5, with the procession of artists at 7 pm at the Railyard Water Tower. The procession will be followed by a performance by SUPER VERZA, a Latin Cumbia band. The market, featuring extraordinary folk art from around the world, will be open to the public beginning Friday, July 7, through Sunday, July 9. Please refer to the following webpage for information on getting to this year's market and buying tickets.
The International Folk Art Market, a trusted resource for designers and art collectors, features several highlights this year. The IFAM Lecture Series: Identity is Handmade, consists of six panels and interactive workshops with IFAM artists, authors and advocates — all highlighting the vital importance of protecting cultural and artistic traditions. The lecture series takes place at SITE Santa Fe. For tickets and information, visit IFAM's ticketing website.
IFAM will host its second annual Night Market with a live performance by French-Creole blues rock band, Delgrés. Based in France, the band's lyrics are mostly sung in Creole - and they tell stories, both lyrically and musically, that are informed by lead singer Pascal Danaë's family history. Tumbleroot Brewery and Distillery will be the exclusive alcohol partner for Night Market. Read more about Delgrés.
Additionally, a robust performance schedule — presenting international musical acts on the market stage, and a haunted train ride with Japanese artist Junya Kono and Sky Railway — add unique interactive experiences that promise to delight visitors. The market is rounded out by international food offerings. For a complete performance schedule and food vendors, visit IFAM's website.
###
About IFAM: The mission of the International Folk Art Market is to create economic opportunities for and with folk artists worldwide who celebrate and preserve folk art traditions. The International Folk Art Market envisions a world that values the dignity and humanity of the handmade, honors timeless cultural traditions and supports the work of artisans serving as entrepreneurs and catalysts for positive social change.
Instagram: @folkartmarket
Source: The International Folk Art Market