If You're Tired of Negative Politics, Here's Some Lighter Political Entertainment
ENTERTAIN YOUR AUDIENCE WITH THE ENGAGING AUTHOR OF THE "STATESMEN & MISCHIEF MAKERS" SERIES, SCOTT CRASS.
Press Release
-
Jun 17, 2016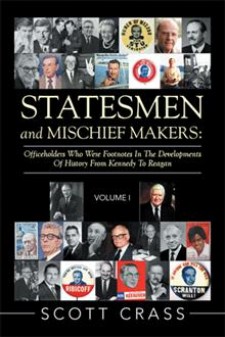 South Brunswick, NJ, June 17, 2016 (Newswire.com) - History has produced many individuals who have impacted the times. Some are well known, others barely recognized. Scott Crass' new book series, "Statesmen and Mischief Makers" follows two paths. One examines officeholders who served between 1960 and 1988, famous or obscure, whose actions gave way to an even more famous person's career.
                                                                                                                
"Statesmen and Mischief Makers" shares hundreds of stories of politicians, elections, and the environment of the period.  Each of the subjects is accompanied by a tidbit/anomaly that will enlighten all. Many are unsung outside their home states, but this important book will change that.        
"After a long, arduous process of acquiring image permission and deep consultation from countless family members and former staffers of my 300 plus subjects, I am very pleased about the completion and release of the Statesmen and Mischief Makers Series.
 
My love of elections and political figures has enabled me to pursue two delightful paths. The first is that history books believe the fact that many unsung heroes exist when it comes to policy. The names and accomplishments that are passed along from generation to generation often leave out the men and women behind the scenes whose contributions were not only pivotal but indelible.
 
Then there is the lighter stuff. The lives of even the most obscure political figures are filled with everything from valiant war time military service to colorful eccentricities that enlighten the reader with juicy anecdotes and lively conversation pieces that make for a unique and uplifting walk through the funhouse-mirrored hallways of American political history.
 
Past is prologue and in an election year, Statesmen and Mischief Makers can provide lessons of personalities, mistakes, and insight from figures from the days of yore", says author Scott Crass.
About the Author:
The author's first word could easily have been "politics." Scott Crass' passion for politics may have been fueled by his first book on U.S. presidents, given to him by his mother, Madeline, at the ripe young age of 5. He quickly wore out the pages, prompting his mother to buy a replacement. Scott has been a devoted student of Presidential and Congressional politics ever since. Scott obtained his B.A. in Political Science and Communications from Monmouth University in Long Branch, N.J., and achieved his M.A. in Counseling at the same institution.   READ MORE
To schedule an interview with the highly entertaining author Scott Crass, contact: Jeanne Murphy at: 908-752-5179 or Jeanne@JeanneMurphyPR.com
Media Contact:
Jeanne Murphy Public Relations
Jeanne@JeanneMurphyPR.com
Source: Marriah Media, LLC
Share:
---
Categories: Books, Politics, Radio Programs
Tags: MarriahMedia, ScottCrass, Statesmen and MischiefMakers, TipO'Neil
---