Iconic South Korean Beauty Brand Acropass Introducing Its Anti-Aging Solution, "Ageless Lifter," Alternatives to Micro-Needling, to US Consumers on November 21
Press Release
-
updated: Nov 21, 2017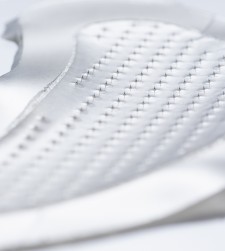 Los Angeles, CA, November 21, 2017 (Newswire.com) -   Acropass today announced the introduction of its Ageless Lifter product to the U.S. Market. The trusted and iconic South Korean beauty brand, whose products are used by millions of women across South Korea, China and Japan, will finally be available to American consumers, sold on its official website, beginning Tuesday, November 21. 
Acropass has revolutionized the cosmetics industry by demonstrating a superior level of industrial science than can be found in conventional cosmetics. Unlike other well-known beauty offerings, its products are developed exclusively from French brand Soliance's top-quality skin moisturizing agent, hyaluronic acid. Acropass' products deliver active compounds deep into the skin using dissolving microstructures that are produced with the company's patented technology, the DAB (Droplet-born Air Blowing) method, which protects the active compounds from distortion. The microstructure consists of EGF (epidermal growth factor), which is the backbone of hyaluronic acid. Upon application, Ageless Lifter is entirely dissolved and absorbed into the affected skin, with better efficacy than other products, and without any risk of skin damage -- producing revolutionary anti-aging effects.
Ageless Lifter is designed as a patch that's quick and easy to use. Unlike injections, it's a painless anti-aging solution, and a non-invasive alternative to Micro-Needling, delivering the benefits of improved skin elasticity and moisturization in a non-invasive way. It penetrates much more deeply into the skin than other hyaluronic acid serums on the market, many of which were exclusively designed for under-eye use – while Ageless Lifter can be applied any time, and anywhere on the face where anti-aging effects are desired. Users have shared that they experienced satisfying anti-aging effects after eight uses, with results remaining up to a month after terminating use. It helps younger women maintain smoother skin, longer, and it's been proven to soften the facial lines of more mature women.
The combination of Acropass' revolutionary technology with Ageless Lifter's easy-to-use patch is the anti-aging solution American consumers have been craving. Acropass can't wait to bring the "Be Your Beautiful Self" ideal to a whole new world of women on November 21. 
About Acropass
Acropass is a brand offers skin care solution with revolutionary technology. It is originally designed by Raphas Co., Ltd, a research and development company founded in 2006 and is headquartered in Seoul, South Korea. Raphas provides skin-based aesthetic medicine solution in South Korea, Japan, and China. It also offers original design manufacturer services in producing cosmetics for various needs, such as wrinkle reduction, freckle, and acne treatment; and medical contract manufacturing services. For more information, please visit: www.acropass-shop.com
PR Contact
Andrea Cheng, Director, Media Outreach, RedCube Studio 
​Cell: (347) 952-5977
Email: andreachen@redcubestudio.com
Source: Acropass
---
Categories: Beauty and Cosmetic Products, Dermatology/Skin Diseases
Tags: acne-treatment, alternatives to microneedling, anti-aging, K Beauty, Korean skincare
---