ICO Design Group and TM Branding's Client Wins First Time Ever "Best Booth -Best in Show" at KBIS 2018
Press Release
-
updated: Jan 25, 2018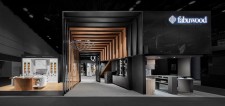 ORLANDO, Fla., January 25, 2018 (Newswire.com) - As a leading Kitchen and Bath showcase, the annual KBIS show attracts nearly 80,000 attendees and boasts over 600 exhibitors. This year, ICO Design Group's Shany Teller and Avi Marciano of TM Branding won the first-ever KBIS "Best In Show-Best Booth" award for their client, the newly rebranded Fabuwood.
The award-winning booth, spanning an impressive 4,000 square feet, was designed by ICO Design Group and TM Branding. Leading with the newly coined tagline, "Quality Redefined," Shany and Avi capitalized on the qualities behind each product. The multi-level exhibit captured the hearts of the KBIS team and visitors alike with high-impact design and interactive displays. Shany and her team carefully crafted thirty unique kitchen vignettes, showcasing cabinetry, trending hardware and finishes.  As they admired the displays and engaging signage, visitors were encouraged to step into the oversized cabinet and snap a #kbisselfie to bring the brand home.
The newly reinvented brand image done by Avi Marciano of TM Branding was the foundation and inspiration for all elements of the booth design. After careful research into brand values, Avi and his team developed and strategically positioned the "Q12" campaign, advancing the 12 fundamental pillars of quality used to redefine excellence in the kitchen cabinetry space. The Fabuwood rebrand was a project of scope and vision--balancing the successful history of the brand alongside a future of innovation. 
"The booth was created to be a fully immersive brand experience," said Shany, "Where visitors can touch, see, and feel the brand. We didn't just design a booth, we designed an exploration of the all-new Fabuwood, and that's what visitors loved."  Already acclaimed for their fusion of brand strategy and space design, the coveted "Best In Show-Best Booth" award and the successful re-brand--was just another example of this new  partnership that is making ICO Design Group and TM Branding an industry icon.
See more of Shany and Avi's award winning work at icodesigngroup.com and tmbranding.com. 
Contact us at info@icodesigngroup.com for interior design and info@tmbranding.com for brand design.
Source: ICO Design Team
Share:
---
Categories: Conventions, Trade Shows, Meetings and Events, Bed and Bath, Kitchen
Tags: architectural, award, booth, branding, cabinetry, graphic design, interior design, kitchens, logo, marketing, Rebrand, trade show Exhibit
---