ICEE Maker Game Returns to App Stores
Press Release
•
updated: Jun 6, 2018
ICEE Maker allows kids the experience of creating an ICEE drink on their mobile devices. The game is now available on the Apple, Google Play, and Amazon app stores.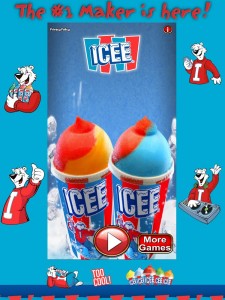 HENDERSON, Nev., June 6, 2018 (Newswire.com) - ICEE Maker allows kids to create an ICEE drink on their mobile devices. The game is now available on the Apple, Google Play, and Amazon app stores.
"A maker game is a very popular style of entertainment game where kids can make whatever the focus of the game is," said Brett Russell, founder, and CEO of Achieved Games. The Henderson, Nevada company announced the release of the game on May 31, 2018.
"Achieved Games saw a gap in the market left by older versions of ICEE Maker being taken down by the developers in the store, so the company jumped in to secure the license to bring the most beloved maker of all time back," Russell said. "It's even better now that it is based upon the Unity engine and therefore available not only for Apple products but for the Amazon Kindle and for Android devices."
"ICEE fans asked and Achieved Games delivered," said Carol Janet, licensing agent for The ICEE Company. "Thanks to Achieved Games, the ICEE maker is back in the app stores."
The fun begins with choosing a cup and lid, or getting creative and creating a customized cup design. Next, youngsters can choose from 32 different ICEE flavors, or create and name a flavor.
Once kids have made the ultimate ICEE, it's time to clean up. They need not worry, cleaning the machine is MUCH more fun than real-life cleaning! After they have made that machine sparkle like new, personalize the cool creation with ICEE bear decals and other fun ICEE stickers. And who could forget the straw? Dig in and choose one of many swirly, curly, twirly straws. Kids can even add awesome toppers to the straw.
Now that the drink is just the way kids likes it, enjoy it by drinking it to the last drop. Want a refill? No problem - refill it with just a tap. Up for an ICEE challenge? See how many ICEE drinks he/she can down in 30 seconds. They should pace themselves because if they drink too fast they will get a "cranium cramp," and they can't drink until it thaws.
A maker game is a way for youngsters to have control over something that they normally wouldn't. For example, very young kids who want to cook something probably wouldn't be allowed to do so in real life.
"But with this maker game, they can play around with an ICEE machine and do whatever they want without any consequences," Russell said. "It's for kids usually from ages 2 to 8 or 9."
Game players will be able to play for free at the most basic level. If they want to unlock all aspects of the game, their parents can make an in-app purchase for everything available in the game through a credit card they attach to the game. Kids need to have their parents' permission to make any in-app purchases.
The aspects of the game that will require paid access are all of the stickers, special lids, the ability to paint directly on the cup, the ability to make their own flavor, all of the different cups, a super cleaner to make it easier to clean the machine, all of the straws and all of the straw toppers.
Freemium games such as ICEE Maker are different from purchased games which you pay for first, then download. There is no trial period on a purchased game. Freemium is the ability to play the game without paying anything. But if a players want the full experience, they pay a small fee, so it's almost like a try-before-you-buy transaction.
Russell has worked with the ICEE Company in the past to create games with ICEE branding.
"Every time a kid is playing and enjoying the ICEE maker game, it's good brand recognition," he said. "When they go to the movie theater and see the ICEE machine back behind the counter, they're probably going to think, 'Oh, I love ICEE.'"
"I'm just glad to be a part of bringing a beloved and cherished classic back to children for their enjoyment," Russell said.
About Achieved Games
Achieved Games LLC, founded in 2016 and located in Henderson, Nevada. Achieved Games creates engaging mobile content for the whole family, with a focus on relaxing and beautiful puzzle games. With a fun and high-quality portfolio that includes original and licensed properties, the company ha lovingly produce games that entertain, challenge and engage players the world over. In just two years, Achieved Games has established itself as a respected up-and-coming mobile game developer. Achieved Games is seeking mezzanine financing to solidify its growth strategy.
Source: Achieved Games LLC
Related Media
Additional Links