IBM Watson Health Rated Top End-to-End Population Health Solution in Black Book™ Best-of-Breed Study
Press Release
•
updated: Feb 1, 2017
30 Best-of-Breed PHM firms were evaluated from client satisfaction and outcome scores on 18 key performance indicators.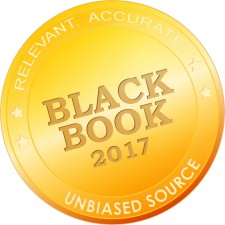 Tampa, FL, February 1, 2017 (Newswire.com) - ​​​​​​​​Population health management (PHM) is one of the fastest-growing segments in U.S. healthcare systems, with the majority of $8 billion in digital health investments during 2016 going to investments to support complex PHM initiatives, a new report from Black Book Market Research finds.
1,740 executive level officers participated over the fourteen month crowdsourced survey set which included Chief Executive, Operations, Financial, Information, Marketing, Medical and Nursing Officers from 297 hospitals and IDNs; 587 physician groups, Independent practice associations and ambulatory organizations; and 58 payers.
In the survey sets and polling, Black Book asked respondents to assess and score PHM vendor performance in the six functional components widely accepted as the essentials of Population Health Management:
Data Collection Aggregation, Storage and Patient Registries
Connectivity and Identification of Gaps in Care
Big Data Stratification and Risk Segmentation/Cost Metrics
Patient Engagement and External Data Acquisition
Care Team Coordination and Management, and
Outcomes Measurement, Reporting and Analytics
A total of 69 non-EHR vendors reported offering customers a full suite of technology and services to address end-to-end population health management solutions in the pre-survey processes. The top 30 rated companies rated on eighteen key performance indicators specific to PHM were announced in the Black Book report today.
IBM Watson Health, including the IBM divisions of Truven Health Analytics, Explorys and Phytel collectively garnered the highest client experience grades for end-to-end population health solutions.
The recent Evolent Health acquisition of Valence Health, created a joint organization that clients of value-based care (VBC) services honored as another top contender in the evolving market of end-to-end PHM solutions.
Additionally, qualified satisfaction survey ballots for comprehensive PHM and VBC solution vendors were received between Q2 2016 and Q1 2017 from the customers of The Advisory Board, Optum, Philips Wellcentive, Caradigm, Lightbeam, Deloitte, Health Catalyst, Enli, Premier, i2i, Medicity, Lumeris, Best Doctor, Medecision, ZeOmega, Influence, Humana Transcend Insights, Conduent (Xerox), Cognizant Trizetto, Orion Health and ten others.
Black Book™'s "2017 Yearbook of Population Health", as well as a full report on the competitive analysis and supplemental findings of the Top 30 End-to-End Population Health Best-of-Breed Solutions are available at www.blackbookmarketresearch.com
About Black Book
Black Book™, its founders, management and staff do not own or hold any financial interest in any of the vendors or public relations firms covered and encompassed in the surveys it conducts.
Additionally, Black Book does not contract for, barter, exchange or accept direct services from any public relations firm mentioned in the rankings. Black Book reports the results of the collected satisfaction and client experience rankings in publication and to media prior to vendor/firm notification of rating results and does not solicit vendor/agency participation fees, review fees, inclusion or briefing charges, consultation requirements, and/or vendor collaboration as Black Book polls' clients.
Since 2000, Black Book™ has polled the vendor and service firm satisfaction across over thirty industries in the software/technology and managed services sectors around the globe. In 2009, Black Book began polling the client experience of now over 540,000 healthcare software and services users including public relations agencies and crisis management consultants. Black Book expanded its survey prowess and reputation of independent, unbiased crowd-sourced surveying to IT and health records professionals, physician practice administrators, nurses, financial leaders, executives and hospital information technology managers.
For methodology, auditing, resources, comprehensive research see: http://www.blackbookmarketresearch.com
Source: Black Book Research LLC