Ian Robert Nelms Places Top 100 in the Cabella's Tournament, but Apitz and Gehmz Take Home First
Press Release
-
updated: Jul 11, 2017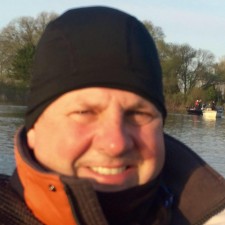 Trenton, New Jersey, July 11, 2017 (Newswire.com) - Ian Robert Nelms has been glowing since he managed to place in the top 100 of the Cabela's Masters Walleye Circuit's Green Bay tournament, which took place on the weekend of the 8th and 9th of July.
"It's the best of the best Fishing out of all the Walleye Fishing Tournaments", said Ian Robert Nelms after finding out how well he'd done.
The Oconto, Wisconsin event—presented by Lowe Equipment—was a massive spectacle for locals in the Bays de Noc, Escanaba area. Having been held with much success in the area before, tournament co-director Lara Herboldsheimer decided to bring it back alongside a selection of recreational areas for everyone to enjoy; this included a variety of food stalls, featuring food presented by chefs of a variety of disciplines, as well as a kids' fishing derby, and a flea market.
"This is our third time in Escanaba; it's just a great community," said Herboldsheimer on the day of the tournament. "They welcome us with open arms. It's a great fishery. It's a great place to come and be a part of the walleye community."
Not only were attendants graced with glorious weather on the lake, but the tournament organizers also ensured that entry into the competition was lucrative for everyone participating; in fact, there were over $200,000 in prizes up for grabs, including two Ranger boats.
And, much to everyone's surprise, the team that managed to place first in the event happened to hail from areas fairly nearby. Wisconsin's very own duo of Buck Gehm and Louie Apitz decided to stay in the shallow reefs around a mile from the launch, unlike the majority of their competitors who decided to try their luck further out.
In the end, the two of them together managed to bag a total of forty-six pounds and two ounces. "It's pretty surreal to win a big tournament like this," said Apitz, of Menasha, WI. "The MWC is the top of the line in team trails and our favorite one to fish."
Gehm, of Crivitz, was equally overwhelmed, having not expected to take home first. "This is awesome", he said. "I didn't think we'd be able to pull it off. We couldn't put a program together targeting big fish on the mud, so we ground it out fishing the tops of shallow weeds about a mile from the launch."
Since they managed to focus on the shallower depths, the team decided beforehand that they'd stick to using a combination of pulled perch-colored hatchet and willow leaf spinner rigs sweetened with nightcrawlers. Cruising at a steady pace of 1.4 mph, they hovered around the eight to eleven feet of the watermark.
However, it wasn't all smooth sailing. The split shot meant that their blades were spinning just above the weed tops for most of the time, and they had to continually check their rig for pieces of broken weeds; likewise, losing bait to the number of smaller fish in the area proved equally frustrating.
"Constantly bringing in one line after another was part of the deal," said Gehm. "There were a lot of small walleyes, along with perch, pike, and sheepshead," added Apitz, who noted that they went through 13 dozen nightcrawlers on day two alone. "We made a rule that nothing under 25 inches was going to the live well."
By Sunday, the pair started to question their decision: "We got a little nervous this morning but stuck with it and things worked out."
Luckily, their efforts did manage to pay off. They took home a total of $14,680 in cash prizes, which includes the $10,000 first-place payout, as well as the $1,000 Ranger Cup contingency and $500 Lowrance Electronics bonus.
Likewise, they claimed a complete 750 auger attachment package alongside a drive unit, 12-inch diameter auger, mounting accessories and hose kit (worth $2,181), kindly provided by the event's presenting sponsor Lowe Equipment. The $1,000 Cabela's National Team Championship Prize Package was also given to Apitz and Gehms, including paid entry into the 2017 NTC, travel stipend, team jerseys, and plaques.
A fantastic day of fishing was enjoyed by everyone, but it's the unlikely Wisconsin duo that managed to take home gold thanks to their ingenuity and patience. The Cabella's tournament is always an exciting day out, and it's great to see what some anglers manage to bring in. We're wishing Apitz, Gehmz, and Nelms all the best for next year's competition, too!
Source: Ian Robert Nelms
Share:
---
Categories: Sports, Fitness, and Recreation, Recreation and Sports, Hunting and Fishing
Tags: Ian Robert Nelms, Ian Robert Nelms NJ, Robert Nelms, Robert Nelms NJ
---