Ian Robert Nelms Among the Top 100 in the National Federation Tour Walleye Fishing Tournament
Press Release
-
updated: Jul 11, 2017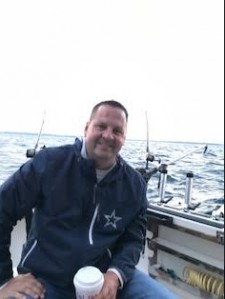 Trenton, New Jersey, July 11, 2017 (Newswire.com) - Ian Robert Nelms and his angling partner Aaron Rice had recently placed in the top 100 of the National Federation Tour, one of the greatest walleye fishing tournaments in the country. He had worked incredibly hard during the tournament, and he now plans to win the next event. The tournament, which was sponsored by Cabella's and held in Escabana's Bay de Noc, was very well-attended, and it has been that way year after year. In fact, an increase in attendance has been observed this year, which some claim to have been due to the glorious sunshine.
The turnout for the event was tremendous and this was helped to some degree by the $200,000 worth of cash prizes that were up for grabs for anglers who participated in the event. In fact, according to Ian Robert Nelms, this is what made it the best of the best in terms of the different walleye fishing tournaments.
There were 240 different teams who participated, and it was the 15th year of the tournament, and the third time it was held in Escabana. This area is known for its fantastic, welcoming community, which makes it even more attractive to anglers. While the fishing is indeed fantastic, the welcoming attitude of the town makes it truly special.
Two top of the line, beautiful ranger boats were among the prizes. Furthermore, Cabella's pulled out all the stops in terms of making the event more attractive, by providing a range of different food stalls where participants and spectators can enjoy a variety of foods from all over the world. There was also a kids' fishing derby, as well as a flea market. This ensured that everybody got entertained for the day.
Ian Robert Nelms follows Cabella's events across the country and he was happy to participate in the Wisconsin competition as well. He did not do as well there, but he was overjoyed for the seasoned locals who did win. They caught a total of 46 pounds 2 ounces a mile outside of the launch spot in the shallow weeds. Louie Apitz and Buck Gehmz were the two winners and they were surprised themselves that they won, despite the area being their personal favorite fishing ground. They took a risk by traveling slowly over shallow grounds, frequently getting their blades stuck and becoming frustrated by catching nothing but small fish. Yet, they had set themselves a strategy, and in the end, it paid off.
It was their very patience and determination that inspired Nelms to aspire for something similar. He explained how he and various other participants, were watching Apitz and Gehmz, being quite amused at the sheepshead, pike, perch, and walleyes they were catching. They had announced earlier that if the catch was 25 inches or less, it wouldn't pass at all. The strategy, which seemed almost ridiculous to many other participants, worked like a charm, and Nelms has hopes that he could do it too.
Just as with the Escabana tournament, the prizes were impressive. Apitz and Gehmz were awarded more than $14,500 in different prizes, $10,000 of which was the first place payout. They also received a courtesy bonus to the value of $500 from Lowrance Electronics, as well as the Ranger Cup contingency fund, valued at $1,000. There was more than enough prize money to have their blades fixed!
With every National Federation Tour contest, the duo received a wealth of other prizes. These included a hose kit, mounting accessories, a 12" diameter auger, and a 750 auger attachment package, which came with a drive unit. These prizes, provided by sponsor Lowe Equipment, were worth over $2,000. Furthermore, the Cabella's National Team Championship Prize Package, valued at $1,000, was also part of their winnings, and they will automatically be allowed to participate in the 2017 NTC. For Nelms, this is the type of prize he can only dream of, but he is determined to be the next to win it.
Nelms' ultimate goal is to be a state champion, like Apitz and Gehmz. He recently became a Master Angler and has officially turned pro. Like thousands of other anglers across the country, amateurs and veterans alike, Nelms will be attending any Cabella's tournament whenever he can. His ultimate goal is to win a tournament, but the participation itself, and the fantastic atmosphere at the events is what will keep him going until he finally wins. Additionally, he is using the opportunity to learn from the other anglers and is developing his own strategies by watching them. Having seen Apitz and Gehmz, and the huge risk they took that ultimately paid off, he is ready to follow in their footsteps.
Source: Ian Robert Nelms
Share:
---
Categories: Sports, Fitness, and Recreation, Recreation and Sports, Hunting and Fishing
Tags: Ian Robert Nelms, Ian Robert Nelms NJ, Robert Nelms, Robert Nelms NJ
---