'I Would Never Have Started Taking Drugs if I'd Known'
Former addict from Nigeria finds the Foundation for a Drug-Free World and adopts it in his personal crusade to keep kids off drugs.
Press Release
-
updated: Aug 12, 2017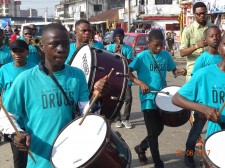 PORT HARCOURT, Nigeria, August 12, 2017 (Newswire.com) - Learning about the Foundation for a Drug-Free World, Chukwudike Daniel Chukwuma, a former addict from Port Harcourt, Nigeria, was excited. Within a week of receiving the booklets and Educator's Kit that he ordered online, he had visited five schools, delivered drug education lectures in each of them, and confirmed what he thought — that these were materials to help him accomplish his goals.
A former drug addict, Chukwuma's belief in the importance of educating young people on the truth about drugs comes from experience. "I would never have started taking drugs if I'd known," he says.
Society, groups, individuals need to do more to protect our children.
The reason he has incorporated the booklets and videos in his initiative is that "the children really 
understand 
them,"
he says. "I am on a personal mission to get the Truth About Drugs booklets to all of the children of this city."
Chukwuma is the founder and president of Initiative for Drug Demand Reduction and Abuse Prevention (IDDRAP). Composed of some 30 volunteers, the group aims to prevent juvenile drug abuse and counter illicit trafficking and violence through drug education.
"Youth tend to find solace on the street where they join gangs for protection or just to survive," Chukwuma writes on his Facebook page, "and such can result in drug abuse and substance peddling. Society, groups, individuals need to do more to protect our children."
IDDRAP offers free drug education and booklets, career counseling, advocacy and mentoring, in schools and community settings.
The volunteers are focused on empowering and supporting youths to make informed, safe and smart choices that lead to productive, purposeful and contributing lives. They carry out drug education, contests and activities. On International Day Against Drug Abuse and Illicit Trafficking, they organized a march through the streets of Port Harcourt to raise awareness of the dangers of drug abuse.
Proud to be working with the Foundation for a Drug-Free World, Chukwuma says, "Together we shall eradicate drugs from our society."
The Church of Scientology and its members support the Foundation for a Drug-Free World, whose Truth About Drugs campaign is one of the world's largest nongovernmental drug education and prevention initiatives. Thanks to this support, the Foundation provides — free of charge — drug education booklets, videos and educator guides to teachers, mentors and civic and community leaders.
According to the United Nations Office on Drug Abuse and Illicit Trafficking, "Every dollar spent on prevention can save governments up to ten dollars in later costs."
Read the story on the Scientology Newsroom.
Source: ScientologyNews.org
Share:
---
Categories: Non Profit, Substance Abuse, Addiction
Tags: drug abuse, drug addiction, drug education, drug prevention, Foundation for a Drug-Free World, Initiative for Drug Demand Reduction and Abuse Prevention, Nigeria, Port Harcourt, Truth About Drugs booklets
---