i-Blason and SUPCASE Announce All-New Case Designs Exclusively for Samsung Galaxy Z Fold5 and Flip5
Press Release
•
Aug 10, 2023
Plus fan faves are back with some slight modifications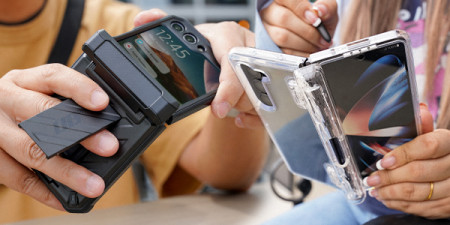 ATLANTA, August 10, 2023 (Newswire.com) - i-Blason and SUPCASE, two leading manufacturers of protective accessories for mobile devices, have released their Samsung Galaxy Z Fold5 and Flip5 case lineups.
SUPCASE brought back its flagship Unicorn Beetle PRO for the Galaxy Z Flip5 and Fold5. While the UB Pro for Fold5 features the same hinge cover/S-Pen holder, the Flip5 version was redesigned with a multiangle kickstand doubling as a ring holder, a hinge cover, and built-in screen protector for the outer display.
Also available for the Fold5 is the original Unicorn Beetle, a slimmed down version of the UB Pro with no hinge cover and a free rotating belt clip holster. New this year though is an S-Pen slot built into the holster, so those who like to use the stylus no longer have to choose between the UB and the less slim UB Pro.
Sister brand i-Blason has also seen updates to its Flip5 lineup. The stylish Cosmo and rugged Armorbox are both back, except they too now feature a hinge protector and built-in screen protector. Like the UB Pro, the Armorbox now has a built-in kickstand that doubles as a ring holder. The Cosmo and Armorbox are also available again for the Fold5 as well as the Halo, a completely clear Z Fold case with hinge protector that also serves as an S-Pen holder.
Both brands' Z Fold5 cases are compatible with the Fold4 and Fold5 S-Pen. For those who prefer the slimmer, newer S-Pen the brands will include an adapter that allows it to fit within the cases' S-Pen slot.
Fans planning to upgrade to a Samsung Galaxy Z Flip5 or Fold5 can find award-winning protective cases at SUPCASE.com and i-Blason.com.
About SUPCASE
In 2018, the Unicorn Beetle PRO won CNET's first annual drop test, not only with the highest total feet but as the lowest cost case in its class. Unlike the other name brands, SUPCASE delivers higher quality than you'd expect for the price with a built-in screen protector, kickstand, and free belt clip holster in one package (models vary). Since winning CNET's first annual drop test, the UB Pro has attained legendary status surviving 50 ft by Everything Apple Pro (twice), getting run over with cars, flung out the window at 50 mph, stopping a bullet (true story), exploding phone batteries, aircraft towbars, cattle, lawnmower blades, and more. SUPCASE is a trademark of Brillotech, Inc., a sister company of i-Blason LLC. For more information, visit SUPCASE.com.
About i-Blason LLC
From humble beginnings operating out of a garage in Atlanta, GA, i-Blason began with a revolutionary approach to mobile accessories. Using advanced engineering, the company's cases provide maximum protection. i-Blason's products are not only durable but also reflect personality through classic and kid-friendly cases designed with ergonomics in mind. To learn more visit i-Blason.com.
Contact: Melissa Hau, Brand Manager | marketing@i-Blason.com
Source: SUPCASE