Hurley Drops Super Surfer Game NFTs on SKALE Blockchain, Launches on Jump.trade
Press Release
•
Sep 4, 2023
On August 30, 2023, Hurley launched its digital collectible NFTs, opening access to its Super Surfer™ game and the exclusive Hurleyverse.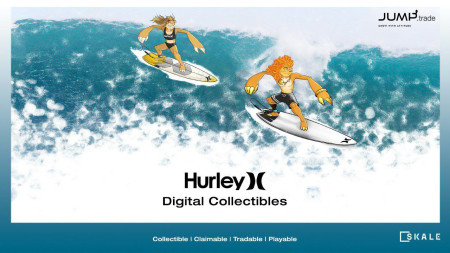 SAN FRANCISCO, September 4, 2023 (Newswire.com) - The unique Hurley NFTs were minted on the SKALE blockchain and are now available on Jump.trade, with the two entities undertaking a strategic collaboration for release.
Super Surfer & Hurleyverse
This launch gives fans of Hurley access to the immersive Web3 surfing game and also digital collectible avatars: surfing sloths, that embody the Hurley DNA in all their elements. These collectible gaming assets can be purchased on Jump.trade and come packaged with performance advantages, as well as exclusive Hurley style attributes. To add to the street cred, Hurley will also be giving out exclusive physical Hurley hoodies that fans and collectors can flaunt.
Ralph Gindi, Bluestar Alliance COO, stated: "Hurley will always be right in the middle of the action, engaging our fans in new ways. We know our athletes and consumers look for immersive and fun experiences, and we wanted them to be able to play across both the physical and digital worlds,"
SKALE was selected as the most suitable blockchain considering the advantages it provides with respect to scalability, performance, and zero gas fees. With Hurleyverse™, SKALE adds yet another game to its portfolio of some notable NFT games that it has powered.
Jack O'Holleran, the CEO and co-founder of SKALE blockchain stated: "We have always believed that games were one of the best candidates to utilize the advantages of our blockchain, and we are excited to have Hurley mint their NFTs on our blockchain"
NFTs on Jump.trade
The Hurley NFTs are available on Jump.trade, one of the biggest NFT marketplaces and a consistent top-ranking game platform. Jump.trade has already launched two games, and the launch of Hurleyverse is expected to help the company strengthen its position in the NFT market.
Ramkumar Subramaniam, CEO of Jump.trade stated: "Minting the Hurley NFTs on the SKALE blockchain is, as it is, an exciting piece of information. It delights me even more to be dropping it on Jump.trade. The strategic collaboration between Jump.trade and SKALE I believe will be the harbinger of many more to come in the future"
Mr. O'Holleran and Mr. Subramaniam stated that while the launch of digital collectibles and NFT game by Hurley is great news, they are particularly elated that the collaboration between SKALE and Jump.trade is powering the Super Surfer™ and the Hurleyverse™ NFT drops.
The game is expected to have some intriguing and immersive elements like dodging sea monsters, collecting coins, and exhibiting some fun moves while surfing. The game is already available for download on the Play Store and App Store, and the version of the NFT-integrated game will be updated by the end of September.
About Hurley
Born from water, Hurley was founded in Huntington Beach in 1999 on the principle of empowering and fueling the voice of the next generation. Through the lens of inclusion, Hurley has partnered with the world's best surfers, snowboarders, skateboarders, musicians, and artists, and is an iconic global youth culture brand with roots sunk deep in beach lifestyle. Disruptive innovation is our unique blend of style and performance and has Hurley sitting as the global benchmark for performance both in and out of the water.
About SKALE
SKALE is one of the world's fastest blockchain, designed for fast, secure, user-centric Ethereum scaling. SKALE chains offer zero gas fees to end-users and have advanced features such as on-chain file storage, interchain messaging, zero-cost minting, ML/AI smart contracts, and enhanced security features.
SKALE-G is the first fully decentralized Layer 1 permissionless blockchain to roll into Ethereum and use Layer 2 operatorless ZK rollups. The SKALE network enables developers to deploy their own EVM block.
Jump.trade Socials
Twitter | Discord | Instagram | Telegram
Media Contact Details
Contact Name: Ramkumar Subramaniam
Contact Email: info@guardianlink.io
Jump.Trade is the source of this content. This press release is for informational purposes only. The information does not constitute investment advice or an offer to invest.
Source: Jump.trade
Tags