HUP Talent and Booking Announces Inclusion of "What If?" at Hollywood's Biggest Award Show!
Press Release
•
updated: Mar 2, 2018
HUP Talent and Booking confirms Matthew Imes has been invited by WOW! Creations to distribute his book, What If?, at their Gifting Suite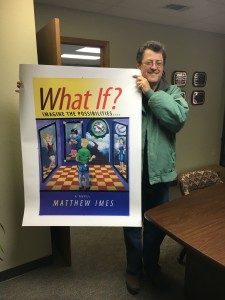 Hollywood, CA, February 28, 2018 (Newswire.com) - ​​When asked, Matthew said, "I am honored to be included and am looking forward to introducing What If? to Hollywood."
Like the main character in What If? Matthew began his professional career as an adjuster for a large national insurance company. Matthew has a BS in Business Administration, and completed the courses of study in History and Philosophy from Centenary College in Shreveport, Louisiana. He currently resides outside of New Orleans, Louisiana with his wife and son.
Matthew said, "When I started writing 'What If?', I wanted to create a story that everyone could relate to in some manner, and at the same time exorcise some of my own demons. When I started this book in 2012, news was not yet covering Elon Musk's and Mark Zuckerberg's efforts to integrate the human mind with Artificial Intelligence. Given the recent flood of stories about these gentlemen's work, I truly believe we will see technology similar to that in the book within 10 years."
About What If?
What If? is a timely story at a major intersection of human and computer connectivity and communication. Ryan Jones, a divorced 30+ year old, is looking for answers about his life. Ryan believes exploring his past is the key to his future, and his search leads him to a company that created an Artificial Intelligence program that purports to answer the "what ifs" in life.
Though skeptical, Ryan tests the service and finds it works incredibly well. Assisted by the human-like AI personality, Stan, Ryan is able to go back to any time in his life, change a decision or action, and then experience what would have happened had the different choice been made in real life.
What decisions would you change in your life? What would you do differently?
What If? is sure to make you consider these questions. This is a novel to remember and is written for anyone who has ever asked themselves the question, "What If?"
You can learn more about Matthew and his projects at www.matthewimes.com and http://huptalentandbooking.com/matthew_imes.php
Published by Author house Publishing, you can order What If? through major e-book services. It is recommended to search by the author's name, Matthew Imes. Softback and hardback copies are available through the following direct Links.
Amazon
https://www.amazon.com/What-If-Matthew-Imes/dp/1546203214
AuthorHouse
https://www.authorhouse.com/Bookstore/BookDetail.aspx?Book=761495
Barnes and Noble
https://m.barnesandnoble.com/w/what-if-matthew-imes/1126950516
Also, please follow us on
Facebook https://www.facebook.com/What-If-Novel-by-Matthew-Imes-360208061060067/
Twitter https://twitter.com/Matthewimes11
Matthew Imes can be reached for interviews via Lisa Darden at HUP Talent and Booking Agency: 240-446-1554. www.huptalentandbooking.com
Source: HUP Talent