Huobi Global Now Supports Sator's Native $SAO Token
Press Release
•
Jul 7, 2022
Sator (SAO) Begins Trading on Leading Crypto Exchange Huobi Global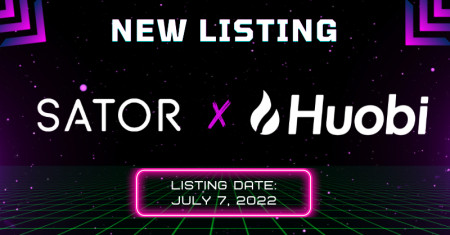 HONG KONG, July 7, 2022 (Newswire.com) - Sator has announced that Huobi Global is the latest exchange to support the purchase, trading and withdrawal of Sator's social utility token, SAO. Huobi Global account holders are now able to trade the Solana-based version of SAO. Initial trading pairs on Huobi Global include SAO/USDT.
SAO token fuels global television and content distribution to the Web3 world at-scale. Sator Network rewards ecosystem participants — both rights holders and audiences, for their respective contributions. In Sator's mobile dApp, desktop marketplace, P2E games and VR metaverse, audiences engage with popular television shows, movies and content while accruing value through NFTs, $SAO and decentralized economics. Sator's unique tech stack and native token disrupt traditional legacy distribution models.
Sator has grown significantly since inception and is now expanding. This listing on Huobi Global increases accessibility to the SAO token and accelerates adoption of Web3 television.
As a multichain token, SAO is Solana-native bridged to Ethereum; both SAO (SPL) and SAO (ERC20) trade on various exchanges. As of this latest listing, SAO now trades on Gate, Uniswap, DexLab, Orca and Huobi Global.
###
About Sator: Sator Network includes a decentralized app where users can earn NFTs and tokenized rewards for simply watching their favorite TV shows. Sator's blockchain-based platform allows content viewers and distributors to align interests including economic value. Users can tune into Sator-activated content while collecting NFTs featuring utility in that content. Leveraging strengths of multiple blockchains including Ethereum and Solana, Sator powers global entertainment for the Web3 era.
You can download Sator app on iOS and Android, or visit https://www.sator.io/
Source: Sator.io