Human Rights Group Promotes Positive Change in the Gambia
Press Release
•
updated: Sep 2, 2018
The partnership between Youth for Human Rights International and the Beakanyang Kafoo nonprofit continues to infuse a culture of humane values into the country through grassroots human rights education.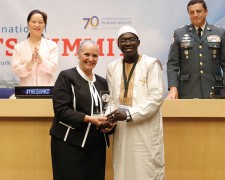 LOS ANGELES, September 2, 2018 (Newswire.com) - Two decades of oppressive dictatorship, ended only a year ago, left The Gambia in a very precarious position. Entire generations grew up ignorant of their rights and responsibilities, leaving them ill-prepared to operate in and secure the future of the nation's new democratic government
Nfamarah Jawneh, founder and executive director of the human rights NGO Beakanyang Kafoo, was well aware of the challenges this presents to the country's stability as a democracy. He formed a partnership with Youth for Human Rights International (YHRI) to ensure the transition is effective and lasting through broad implementation of human rights education.
In April 2018, the 15th Annual Youth for Human Rights World Tour traveled to The Gambia, where YHRI president Dr. Mary Shuttleworth met with The Gambia President Mr. Adama Barrow, Jawneh's NGO and many other nonprofit and civic organizations to learn of the needs of the country and set goals for this partnership.
Mr. Jawneh then traveled to New York for the 15th annual Human Rights Summit at the UN where he was also awarded the 2018 Human Rights Hero Award for his courage and persistence in support of the rights of the people of his country.
The Beakanyang Kafoo/Youth for Human Rights partnership has launched a program to train teachers on the Youth for Human Rights curriculum so it can be incorporated into the education of every child in the country.
Scientology founder L. Ron Hubbard described the importance of the Universal Declaration of Human Rights in a 1969 essay titled "Patriotism":
"The United Nations came up with the answer. An absence of human rights stained the hands of governments and threatened their rules. Very few governments have implemented any part of the Universal Declaration of Human Rights. These governments have not grasped that their very survival depends utterly upon adopting such reforms and thus giving their peoples a cause, a civilization worth supporting, worth their patriotism. It is vital that all thinking men urge upon their governments (for the governments' own sake if no other) sweeping reforms in the field of human rights."
For more information, visit the Youth for Human Rights website. The educational materials of Youth for Human Rights and stellar examples of groups and individuals who have used them to secure the rights of their people can be viewed on the Scientology Network.
Source: Scientologynews.org
Related Media