Human Rights: A Hot Topic at the Ontario Science Centre
Press Release
•
updated: Dec 14, 2017
Human Rights Day celebration at Ontario Science Centre gives voice to activists of all ages.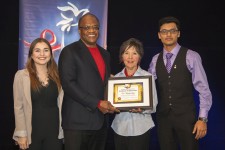 TORONTO, December 14, 2017 (Newswire.com) - ​Youth for Human Rights Toronto held its 12th annual Human Rights Day celebration at the Ontario Science Centre to bring about awareness of this important day, observed every year around the world on December 10.
Inspirational speakers enlightened the audience by providing strong messages on the value of knowing one's human rights as proclaimed nearly 70 years ago in the United Nations Universal Declaration of Human Rights.
Dr. Sheridan Cyrus related his own experiences with human rights violations as a youth living in Grenada. He strongly encouraged the audience to stand up against human rights violations. Dr. Cyrus immigrated to Canada in 1983 and has worked to support the community through various philanthropic activities, including sponsoring the Grenada Boys Secondary School, Jamaican Ex-Soldiers Association and Malvern Youth Community Employment Program.
Imam Dr. Abdul Hai Patel, a past Ontario Human Rights Commissioner and founder of the Canadian Council of Imams, has served as an imam and community leader in Canada for 48 years. He spoke of the way the Universal Declaration of Human Rights empowers all people and how equality, justice and freedom prevent violence and sustain peace. He warned that whenever and wherever humanity's values are abandoned, all are at greater risk.
Pierre Sabourin, historian and art educator who at age 10 was mentored by Arthur Lismer, one of the famous Canadian landscape artists known as the Group of Seven, gave a presentation on the value of respecting others' human rights and referred to Article 19 of the Universal Declaration: freedom of expression.
The event also gave voice to youth. The MC was Kristina Kisin, youth activist who has volunteered with the Youth for Human Rights Toronto chapter for the past three years. Abeir Liton, Youth for Human Rights Toronto Youth Engagement Coordinator, showed a video presentation about the human rights education activities of YHR Toronto volunteers. Their message is that by gaining knowledge of human rights, one can help oneself and others and help society evolve for the better.
"The United Nations Universal Declaration of Human Rights, adopted nearly 70 years ago, proclaims that all human beings are entitled to fundamental rights and freedoms which must be respected and protected by all nations of the world," said Youth for Human Rights Toronto Director Nicole Crellin. "But these human rights are being violated and the document is known only by a few. We have a great deal of work to do in demanding that human rights education is disseminated through campaigns, events and broad publication, thus creating a foundation for freedom, justice and peace in our communities. A population ignorant of its rights cannot demand or defend them."
Ms. Crellin thanked the Church of Scientology and others who have supported the Toronto chapter of Youth for Human Rights International in their activities.
Youth for Human Rights International is a nonprofit organization whose purpose is to make youth aware of the United Nation's Universal Declaration of Human Rights and inspire them to become advocates for tolerance and peace.
Source: ScientologyNews.org
Related Media