Hugo D. Aviles Speaks at Rocks Digital Marketing Conference 2018 on Blockchain Technology
Hugo D. Aviles to speak at the Rocks Digital Marketing Conference 2018 happening on June 29th - 30th in Richardson, Texas. As a keynote speaker, his presentation will explore how blockchain technology is transforming the digital marketing and advertising ecosystem.
Press Release
-
updated: Jun 28, 2018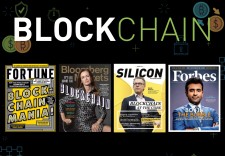 TAMPA, Fla., June 28, 2018 (Newswire.com) - With the recent popularity in blockchain technology, it is no wonder why people are so curious about this bit of tech. Investors alike are pouring tons of money into this space; some don't even know where it goes, they are just hoping it takes off.
There are many sectors and complex layers to blockchain, but what people aren't aware of is that blockchain technology is not only impacting the current financial market, but it is also transforming the digital marketing and advertising ecosystem.
The influence of blockchain, both piercing and positive, is imperative for marketers and advertisers to be aware of – and to clearly understand – in this ever-growing peer-to-peer decentralized network.
That is where Rocks Digital comes into play, as they are the number one digital marketing resource. Rocks Digital is the brainchild of Bernadette Coleman and Lissa Duty, created from the merging of two national events – the Local Social founded in 2013, organized by Bernadette and the DFW Rocks Social Media Conference founded in 2012, organized by Lissa. Their mission is to provide business owners, marketing, SEO, search and content professionals with the resources, information, and insights to stay on the forefront on digital marketing.
Rocks Digital hosts a yearly conference, called the Rocks Digital Marketing Conference, and expert Hugo D. Aviles will speak at this year's conference, breaking down how blockchain technology is transforming the digital marketing and advertising world.
Hugo D. Aviles has expertise in world economics, blockchain technology, social media innovation, and metrics-driven internet marketing strategies. He proudly served in the United States Marine Corps during Operation Enduring Freedom and is currently the Co-Founder and Managing Partner at iBoss Advertising, an international strategic digital media marketing firm, and hBoss Digital, a digital marketing agency specializing in enterprise monetization scaling for the music industry.
Hugo is also the Portfolio Manager of Blockhash Capital, a blockchain digital asset management company that is firmly committed to providing impressive returns through the use of a diversified and actively managed portfolio of blockchain digital technology assets.
"Put simply, our mission is to act as the professional catalyst for the boundless acceptance and innovation of blockchain technology," said Hugo D. Aviles, Managing Director of Blockhash Capital.
During his speaking session, Hugo D. Aviles will explore a few topics, such as the digital media blockchain economy ecosystem, consumer profile transparency and direct targeting, end-to-end ad buying transparency, blockchain technology, KPI metrics, scaling platforms, and so much more.
Blockchain technology is still in the early adopter stage, so you do not want to miss this session, as Hugo D. Aviles will give you a step-by-step blueprint to help build and scale your digital marketing agency in this new blockchain environment.
To register for Texas' largest digital marketing conference happening on June 29 - 30th in Richardson, Texas, please visit https://register.rocksdigital.com.
For media or press inquiries, please contact media relations liaison Dana Blickensderfer at dana@ibossadv.com.
About iBoss Advertising
Founded by entrepreneurs Hugo D. Aviles and Dana Blickensderfer, iBoss Advertising is a full-service digital marketing agency based in Tampa, FL. Devoted to building branding success, iBoss Advertising's mission is to be the leading source for online branding and strategic solutions – i.b.o.s.s. Its team prides itself on innovation, creation and building visionary genius for its clients ranging worldwide, from London to New York and Latin America. iBoss' passion for business, internet marketing, and entrepreneurship is evident in their rigorous work ethic, passion, and dedication to its clients and brand.
For more information visit: http://www.ibossadv.com
Source: iBoss Advertising
Share:
---
Categories: Business Technology
Tags: BLOCKCHAIN, BLOCKCHAIN-TECHNOLOGY, BLOCKHASH-CAPITAL, DIGITAL-MARKETING, DIGITAL-MARKETING-AGENCY, DIGITAL-MEDIA, HUGO-D-AVILES, IBOSS-ADVERTISING, ROCKS-DIGITAL, ROCKS-DIGITAL-MARKETING-CONFERENCE
---