How to Navigate Towards Digital Success With the Right Roadmap
Facing the process of digitalization with a plan delivers better results than initiating digital projects without any structure
Press Release
-
updated: Aug 13, 2019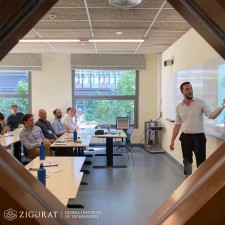 BARCELONA, August 13, 2019 (Newswire.com) - Due to high demand, Zigurat Innovation and Technology Business School has relaunched the Digital Roadmap Series as part of its summer course offerings to help the business world keep up with the rapid digital developments shaping the future of all industries.
Successful organizations are defined by their clear business direction. The same applies to digital transformation, a clear vision and an established roadmap are necessary to define the way forward. To potentiate those who feel somewhat lost while it seems that everyone else is going digital, Zigurat decided to relaunch the collection of 6 eBooks Digital Roadmap Series developed in part by Robin Weninger, professor of Global MBA in Digital Business.  
On the road to digital success
The era of world-shaping innovations and emerging trendsetters will be easy on neither the companies nor the professionals who lead them. But one thing has become clear: the companies who have initiated the process of digitalization with a defined strategy perform much better than companies initiating digital projects without a clear structure. There are 4 steps that every company must follow to gain a foothold in the digital world.
The first step is to identify the current position of the organization by carrying out an analysis of the external environment. Companies should then also conduct internal analyses of their foundation and enabling factors. Once the status quo has been evaluated, first digital initiatives must be derived and put into action. Meanwhile, the organization must start working on a digital maturity plan, the purpose of which is to enable the entire company to become digitally fluent. 
Lastly, if everything has worked out as planned during the above steps, the newly defined digital strategy and goals must be applied to the daily business to pave the way for future success. 
People first, technology second
The change does not occur immediately, but progressively. In other words, the digital revolution turns into a digital evolution, a less disruptive but never-ending change process. "Supported by the right communication and targeted management decisions, organizations can by this succeed in establishing a positive attitude of their employees towards change," states Robin Weninger in Digital Roadmap Series. He adds: "Active participation forms an essential integral part of the digital mindset and of intrapreneurship required within the organization."
Without any doubt, digital aspects are reshaping our daily reality. The workforce is more and more encouraged and enabled to contribute actively to the company's economic success. Everything must be aimed at applying the agile and digital mindset at all levels of the organization rather than solely maintaining a high technological standard.
In this new technological scenario, Zigurat has developed jointly with the Institut de Formacio Continua-IL3 of Universitat de Barcelona the Global MBA in Digital Business, designed for all those professionals who want to foster their technological and decision-making skills and add a differential value to increase their competitiveness in the global market.
Find Digital Roadmap Series here: http://bit.ly/33mTvgq
Source: Zigurat
---
Categories: Continuing Education
Tags: business, business school, digital, digital business, digital roadmap, digital transformation, digitalization, ebook, innovation, MBA, summer course
---