How Portsmouth, Virginia Police Use Friendly Engagement to Reduce Crime and Increase Trust
27 Homicides in 2015, 13 in 2016
Press Release
-
updated: Jan 24, 2017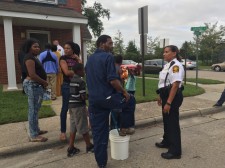 Portsmouth, VA, January 24, 2017 (Newswire.com) - Portsmouth, Virginia, has good news to report. A new Police Chief has successfully led the charge to tackle the challenges of drugs and gang violence faced by this city with a very personal approach. Starting with her report to the scene of a homicide in her second week on the job, she took less than a year ago, she has initiated a new friendly engagement law enforcement style, and it's working. 
Since she began work in Portsmouth, VA in February 2016, Chief Tonya Chapman has worked aggressively to launch a variety of new programs that include meetings and forums with federal, state and city officials, civic leagues, the faith-based community, criminologists, and business leaders. She established a Peer Leaders Group within the department and conducted several community Walk and Talks and Coffee with a Cop aimed at embracing the community.
To laser focus on crime reduction in high-risk areas, the department instituted geographical policing, created a violent crime, gang and narcotics, and a street crimes units. Officers hosts Coloring with a Cop and established a Young Adult Police Chief's Commission that breaks down barriers of fear, minimizes adversarial relationships, and builds bridges towards friendship and mentoring while creating another avenue for cultivating inspired interests in the police department.
The Rapid Engagement of Support in the Event of Trauma (RESET) is a signature program that prioritizes the needs of our citizens by providing support and counseling services in case of a traumatic event in the community.  "Not only does it build trust and legitimacy, but it also provides a renewed focus on community engagement, mutual respect, and crime deterrence," said Portsmouth, Virginia, Chief Chapman.
City Manager Dr. L. Pettis Patton said, "Collaboration, unification and rededication are essential elements in 21st Century Policing, and I applaud the Police department, City Council and citizens of Portsmouth, Virginia, for collaborating and rebuilding trust. The tactics are working, we are encouraged by our progress, and we intend to use every opportunity and resource available to us to build trust and save lives."
Portsmouth, Virginia is an historic waterfront city established in the earliest days of Colonial Virginia located on the edge of the Chesapeake Bay and across the river from the U.S. Naval Station in Norfolk.  It is proud to be the home of Portsmouth Naval Hospital serving the military community. Its assets include modern marine terminals servicing world-wide commercial shipping trade, and extensive recreational boating. Collaborative educational partnerships continue to strengthen the community's workforce and business economy.
For More Information, Contact: Dana Woodson, Public Affairs Officer, City of Portsmouth 757-393-5143, woodsond@portsmouthva.gov
Source: City of Portsmouth, VA
Share:
---
Categories: Organized Crime, Local News, Police Officers
---