How Long Does Artificial Grass Last From Arizona Luxury Lawns?
Press Release
-
updated: Oct 9, 2018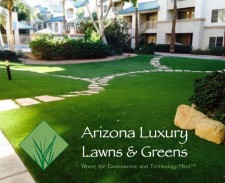 SCOTTSDALE, Ariz., October 9, 2018 (Newswire.com) - With proper care, artificial grass from Arizona Luxury Lawns & Putting Greens can last up to 20 years without fading or flattening, making it a perfect choice for home and business owners.
The long life of artificial grass is one of many reasons that when it comes to landscaping, Phoenix residents are increasingly opting for synthetic over traditional grass. As one of the top landscaping companies in Phoenix, Arizona, Arizona Luxury Lawns helps residents get the lawn of their dreams without the headache of frequent upkeep and maintenance that real grass requires.
Artificial grass installation — Phoenix, AZ                                                                                                                The best grass for Arizona is the grass that will look great no matter what Mother Nature throws its way. Arizona Luxury Lawns' nine step installation process ensures that the artificial grass is laid down to last, with the necessary care taken for a natural-looking lawn. How does Arizona Luxury Lawns install synthetic grass? It's easy.     
 Step one: Pre-installation. Property is cleaned and graded to reveal an ideal surface.   
 Step two: Weed prevention. Weed barrier is applied to prevent growth beneath the turf.
 Step three: Base preparation. 2-4 inches of base material is applied.       
 Step four: Base compaction. The base is leveled and compacted to become a solid surface.
 Step five: Laying turf. Turf is cut, fit, and temporarily secured.               
 Step six: Custom fitting turf. Turf is custom fitted and installed.     
 Step seven: Tucking. Edges of turf are hidden for a natural look.       
 Step eight: Applying filler. Power brush installs kid-safe, pet-safe infill (a layer of "sand" used on top of turf between fibers to hold blades upright).   
 Step nine: Power brushing. Final grooming for optimal appearance and stability.
Arizona Luxury Lawns offers high-quality, U.S. manufactured synthetic grass — Phoenix, Scottsdale, and surrounding areas. All synthetic grass sold by Arizona Luxury Lawns is specifically made to handle harsh conditions such as excessive heat or rain, meaning from backyards to putting greens, Arizona residents know they'll have a lawn that will last.
The thatch layer of grass is made from nylon, which provides turf with an extra layer of support. The grass is inserted into the backing in rows through a tufting machine for a safe and efficient application. The artificial grass is made from polyethylene — the same material used for plastic bags and bottles. The polyethylene comes in pellet form and is melted down along with color tones and UV-resistant additives.
Artificial grass is perfect for homeowners — especially those with pets! Ask Arizona Luxury Lawns about their Zeofill Pet Infill System, which is specially made to fight pet odors.
Ready to upgrade your lawn? Experts at Arizona Luxury Lawns are standing by. Get in touch by calling 480.991.0196 or visit our website for more information.                   
Source: Arizona Luxury Lawns & Putting Greens
Share:
---
Categories: Gardens and Landscape
Tags: artificial grass installation phoenix az, best grass for arizona, landscaping companies phoenix az, landscaping phoenix, putting greens arizona, synthetic grass phoenix
---