How important is legal research in your practice?
Press Release
-
Apr 1, 2016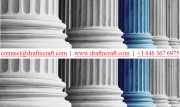 New York, USA, April 1, 2016 (Newswire.com) - Legal Research can be a complex and time-consuming process for attorneys and paralegals. A small negligence can cause major damage to the firm as the outcome of the research leads to legal decision making. The fundamental step in research is to find the appropriate cases governing the issues in question but the ability to analyze what is found and reach a conclusion based on it is also equally important. Usually legal research is known to take much time and effort, and access to online legal research databases such as LexisNexis and Westlaw can be costly. Consequently, law firms and other attorneys turn to companies like Draft n Craft to outsource their legal research needs.
We, at Draft n Craft have a team of immensely talented attorneys who are trained on the U.S. judicial systems. Our dynamic team of attorneys and paralegals come from various backgrounds and share their rich experience in carrying effective legal research for our clients. They efficiently sift through data using the different research tools available with us like LexisNexis. Following are some of the key highlights of our legal research service.
Proficient, precise, and comprehensive legal research for each of the different U.S. jurisdictions
IRAC (Issue, Rule, Application, and Conclusion) Memo with legal analysis of issues presented by the client's set of facts
Annotated summary of

Shephardized

cases relevant to the client's issue(s)
Conclusion advocating the clients' legal position
Available instantly on demand, predictable and fully

re-viewable

Quick turnaround time
If you are interested in using our legal research service or have any query, please send us an email at connect@draftncraft.com . One of our experts will get back to you to understand and discuss your requirements. 
Share:
---
Categories: Law Firms, Lawyers, Paralegals
Tags: AMLAW, ATTORNEYS, CIVIL LITIGATION, CLASS ACTION, ENVIRONMENTAL LAW, LAW, LITIGATION, MEDICAL MALPRACTICE, PERSONAL INJURY, PRODUCT LIABILITY, TOP US LAW FIRMS, WORKMEN COMPENSATION
---