How go4WorldBusiness.com is Helping Manufacturer and Supplier SMEs Access Markets Outside Their Borders
Press Release
-
updated: Feb 23, 2017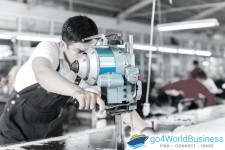 NEW DELHI, INDIA, February 23, 2017 (Newswire.com) - go4WorldBusiness is doubling down on its effort to connect its huge user base of global small and medium businesses to wholesale buyers around the world. This two decade old company has a rich history of helping thousands of manufacturers and suppliers graduate from being small local players in their home markets to globally recognized firms supplying everything from small nails to large turbines used for power generation.
Krishna Kant Bhatt, who looks after customer acquisition for go4WorldBusiness says, "We are currently passing through a very exciting phase in the life of the company having experienced stellar growth in both revenue as well as profitability in the most recent quarters. As more and more young companies come online in emerging markets, we are very well positioned to offer them our demand discovery platform where they can spread their wings and expand their businesses."
He further added, "We have just recently completely refreshed and revamped our website, working hand-in-hand with our members and incorporating their advice into the new platform. go4WorldBusiness will also soon be launching an Android and iPhone App that will allow its users to always stay connected with their online profiles so they never miss an inquiry from prospective buyers."
The company is increasing their allocation to their Marketing budget to further attract new buyers to the platform as more and more high-volume buyers start leveraging online resources to discover high quality and trustworthy manufacturers and suppliers around the world.
"We try to keep our subscription packages within reach of our target audience, unlike our competition. This is in line with our motto which is to genuinely help businesses find new trading partners around the world," said Mr. Bhatt. 
With Governments from South Korea to Turkey to India to the United States recognizing the power of SMEs and the potential they hold to contribute to the economy, policy is being created or tweaked to nurture and support these companies. go4WorldBusiness also works with Government bodies and Trade Promotion Councils such a FICCI in India to facilitate international buyer discovery from time to time. 
About go4WorldBusiness.com:
go4WorldBusiness is a global platform that has been connecting wholesale buyers to small and medium manufacturers and suppliers registered on its website for close to two decades. It is used by hundreds of thousands of businesses each day to generate product related sales leads and interact directly with global purchase managers.
Media Contact:
Ms. Neha Taneja
​​+1-646-912-8383 /+91-11-4150 7600
press@go4WorldBusiness.com
Source: go4WorldBusiness.com
Share:
---
Categories: Business to Business, Supply Chain Management, Agriculture and Horticulture, Manufacturing, Wholesale, Purchasing
Tags: Alibaba, B2B Portal, go4WorldBusiness, Manufacturers, Manufacturing, Product Sourcing, Suppliers, Trade Fairs, Traders, Wholesale, Wholesale Business
---