How BLUETTI is Making a Difference This Earth Day 2023
Press Release
•
Apr 22, 2023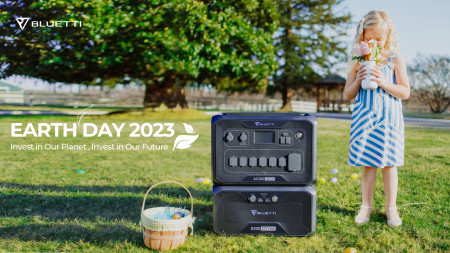 TORONTO, April 22, 2023 (Newswire.com) - The Earth is experiencing a tough period with terrible problems, for example, extreme weather problems. People have found out that living a sustainable lifestyle is what everyone can do for the planet. Therefore, attaching more importance to investment in our Earth is necessary. BLUETTI, as a powerful leader with more clean energy solutions, has always advocated a green and sustainable lifestyle, which is an achievable goal for every individual. BLUETTI is committed to developing an innovative renewable energy ecosystem and becoming a contributor to this goal.
Green Power Solutions With Reliable Batteries
— Live It Safer & Reliable & Green
Most BLUETTI products are powered by lithium iron phosphate batteries with a durable seven to 15 years of service life, which are safer than traditional ternary batteries and more environmentally friendly during their process of production, use and disposal.
The BLUETTI generator can be charged by both AC power and green solar power. From EB3A portable mobile power supply to AC500 home backup battery, BLUETTI offers multiple sustainable energy solutions to meet the needs.
Get Ready for a Sustainable Lifestyle
— BLUETTI is the Key to a Worry-Free Life
Whether enjoying the outdoors shooting, camping or other activities, BLUETTI EB3A/EB55/EB70 will power devices such as cameras, drones, phones, laptops or GPS. BLUETTI also provides AC200P/AC200MAX solar generators since they're able to carry refrigerators, microwave ovens and other electrical appliances, gather solar energy, and power for an easeful RV life.
Support From BLUETTI's Users
— BLUETTI's Concept of Living Sustainably is Supported by Our Friends
In the released BLUETTI documentary, our Australian friend Tom Phase lives on an off-grid farm, which is mainly powered by solar energy and generators. He bought AC300 and AC500 power supplies successively to build his farm.
BLUETTI will always strive to provide clean and independent energy for all human beings, let energy storage empower every family to live sustainably, and create a better world with love and innovation.
About BLUETTI
BLUETTI has been committed to promoting sustainability and green energy solutions since its inception. By offering eco-friendly energy storage solutions for both indoor and outdoor use, BLUETTI aims to provide exceptional experiences for our homes while also contributing to a sustainable future for our planet. This commitment to sustainable energy has helped BLUETTI expand its reach to over 70 countries and gain the trust of millions of customers worldwide.
For more information, please visit BLUETTI online at https://www.bluettipower.ca/ or follow BLUETTI on:
Facebook: https://www.facebook.com/bluetti.ca/
Instagram: https://www.instagram.com/bluetti_canada/
Twitter: https://twitter.com/bluetti_inc
YouTube: https://www.youtube.com/@BLUETTIOfficial
Source: BLUETTI POWER INC.
Related Files