How Blockchain Startup SIMBA Chain Helps Enterprises Build Low-Latency dApps
Press Release
-
updated: May 30, 2018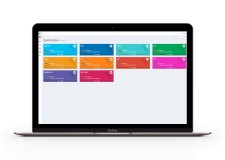 PLYMOUTH, Ind., May 30, 2018 (Newswire.com) - Any enterprise or government institution that deals with large volumes of data and other digital assets should be interested in learning how to amplify its data protection levels. The absence of a central point of failure in decentralized blockchain networks makes them an attractive solution for data protection. However, many governments have been reluctant to examine and apply decentralized networks because of misconceptions about the novel technology. For now, enterprises have been more eager to embrace the blockchain challenge, testing the waters with private decentralized applications (dApps) that can improve the way they deliver goods and services. A number of governmental authorities are also plunging ahead, largely because of the security enhancements made possible by blockchain and SIMBA chain technology.
DApps for Public-Private Partnerships
As things stand at the moment, users are connected with enterprise and government services in many different ways, typically indirectly and with the help of many third parties. The more intermediaries involved in a transaction, the less secure it becomes.
The purpose of the SIMBA chain is to provide a software infrastructure for direct communication between users and big data entities. Started as an initiative by the U.S. military, specifically the Defense Advanced Research Projects Agency (DARPA), the SIMBA chain is developed as a blockchain cloud solution for public-private partnerships. The initial intention of the project was to use the platform for secure messaging that would be less vulnerable to hacking attacks.
What Is the Technology Behind SIMBA?
The Blockchain-as-a-Service (BaaS) concept enables dApp developers to build their own dApps on the SIMBA chain and connect directly with users without third-party mediation.    
The SIMBA chain provides a highly secure, open source and stable environment that uses the Microsoft Government Azure cloud platform. It allows participants to establish fast, low-latency transactions. SIMBA actually solves one of the biggest blockchain problems, scalability, by providing the infrastructure to store immutable data and use it for custom dApp development.
SIMBA APIs
The BaaS platform consists of four features:
Custom business APIs

SIMBA API

Data bundles

SIMBA events
As a general rule, APIs help developers save time by using already existing coding patterns implemented in the platform, thus lessening the burden of creating new solutions and providing consistency across the network. Blockchain and SIMBA chain work together to provide users such cloud-based platforms. Speaking metaphorically, APIs are like a meal-prep software resource for dApp developers.
With custom business APIs, companies can generate business dApps and networks that support users and user groups, events, transactions and assets. As a blockchain solution, these are combined with an HTML5 web application that can be customized to meet the specific business needs.
For now, the SIMBA chain supports the Ethereum and Hyperledger Fabric platforms, the IPFS hypermedia protocol and the unified datastore CEPH.  
The SIMBA event feature allows users and groups to subscribe to event networks and get notifications about events in their systems. SIMBA data bundles enable users to wrap data or other assets (documents and physical entities) into asset manifests and store them into secured distributed datastores.  
Industries on the SIMBA Chain
Without going in-depth into the technology, it's vital to understand that blockchain and SIMBA chain offer a new way to support the infrastructure of already-existing blockchain platforms, integrating them to enable easier, safer and regulated user onboarding.
As a government-initiated solution, SIMBA can improve the service speed and safety of a number of industries, including finance and banking, supply chain, insurance, healthcare, waste management and energy usage. Dozens of public and private partners have joined the SIMBA project. Positive results have already been achieved in the project supported by HealthSpace Data Systems, a company that provides surveillance and audit compliance to users who need secure multiple point access. The project is not strictly government-focused. Its aim is to expand the SIMBA blockchain to companies in the hospitality industry, such as restaurants, hotels and even cannabis operations.  
Blockchain and SIMBA chain are innovative approaches to building dApps that can increase visibility and transparency in data handling, while at the same time providing resources to protect vital user data, such as social security numbers, tax information and digital identities. Such distributed networks have the potential to solve many of the security and data protection issues associated with centralized systems.
Media Contact: 
Joel Neidig 
Phone: +1 574 935 6918
Email: joel@simbachain.com
Source: SIMBA Chain
---
Categories: Cryptocurrency, Computers and Software
Tags: apps, bitcoin, blockchain, Cyber, DARPA, DOE, Ethereum, EY, Facebook, Hyperledger, IBM, Microsoft
---