How a Texas-Based Nonprofit Changes Hundreds of Young Lives in Africa Daily
Press Release
•
updated: Jun 21, 2018
An Idea of Donating Books Turns into a World of Schools, Education, Meals, Safe Homes and Thriving Youth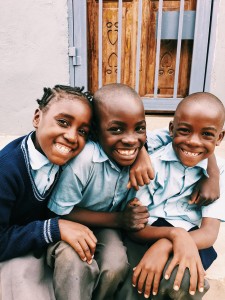 FORT WORTH, Texas, June 21, 2018 (Newswire.com) - ​How does a small Fort Worth, Texas nonprofit reach out to over 1,000 donors, including the most visible Major League Baseball player in America, and start construction on a 700-student school in Lusaka, the capital of Zambia?
It all began when Alissa Rosebrough (who was Alissa Hollimon at the time) graduated from Texas A&M with a communications degree and began working as an assistant photographer for the San Antonio Spurs. This launched her freelance photography career with the National Basketball Association, and she was also working for a large construction company as their in-house photographer. During the basketball offseason, Alissa began taking photos for various aid organizations around the world, particularly in Africa.
Our original intent was to hold one annual fundraiser and buy books. As we invited friends to join us in supporting these children, many of them began committing $30, $50 and even more every month to educate them.

Alissa Rosebrough , Executive Director, Arise Africa
From 2007 to 2014, Alissa photographed in America and traveled around Africa, documenting the progress being made – and not being made – in governmental and aid organizations. After spending an extended amount of time in Zambia in 2008 and 2009, she felt a calling to do more than just chronicle the nation's plight through her photos. She wanted to make a difference on a much deeper level.
Alissa met fellow American John Rosacker on that trip to Zambia, and they hatched the idea of doing something for Zambian children. John didn't mince words with his offer: "I'll pay if you do the work to start a nonprofit." Alissa immediately accepted.
Alissa and John established Arise Africa as a 501(c)(3) based in Dallas in 2010, but what began as collecting and donating books once a year has grown into a much larger mission. The big change came three years later, when Alissa met her soon-to-be husband, Asher Rosebrough. She moved the organization's office to Fort Worth in 2015 and retired from her photography career to dedicate her full efforts to the burgeoning organization.
"Our original intent was to hold one annual fundraiser and buy books," says Alissa. "As we invited friends to join us in supporting these children, many of them began committing $30, $50 and even more every month to educate them." That initial group of 15 friends has grown to over 700 people with a monthly commitment. One of Arise Africa's annual fundraisers – the Crawfish Boil – took place on April 22 at 809 at Vickery. The event attracted 250 attendees and raised more than $150,000 over a four-day period thanks to a donor match campaign.
Today, Arise Africa has generated some impressive metrics: 450 students are in a child sponsorship program where they are educated, given medical care, clothed and fed by the organization. The children are being led by 15 local Zambians hired by Arise Africa, and the student-to-discipleship ratio is 30:1. Arise also operates two orphanages, the Arise Homes, where 18 children live in full-time care. The children in the homes were abandoned, living on the streets or in the city dump, and some were on the verge of death due to illnesses. The organization has a paid staff of 45, including the teachers, administrators, cooks and support staff. Of this number, three are in Fort Worth and 42 are Zambian nationals. "Our teaching can only be as good as the proficiency of the educators," Alissa adds. "We recently hired a Zambian headmaster and he is outstanding. He is helping educate our teachers, which elevates the quality of what they can teach the children."
Arise Africa's programs include serving a hot meal each day, teaching students to read, write and perform math, daily Bible study and, of course, play time – every child needs to have a release for pent-up energy.
Alissa was approached by her friends Clayton and Ellen Kershaw, who wanted to help through their foundation, Kershaw's Challenge. Alissa attended college with Ellen's older sister, which led to the connection. Clayton, the two-time Cy Young Award winner for the Los Angeles Dodgers, and Ellen have traveled to Africa multiple times with Arise and volunteered. This all began when Ellen reached out after learning about the mission trips to Zambia and asked if she and Clayton could join the volunteers.
They also announced that Kershaw's Challenge is providing $1 million to build a school where 700 Zambian students will learn to read, write and develop critical thinking skills. The school will also provide evening classes to help educate the community's adults in hopes of elevating the quality of life for the entire immediate area.
The major project is the new school, which will eventually accommodate 700 students. Due to Zambia's fragile economy, the federal government has imposed new fees for zoning and construction permits. The approval process is slow, but it has been expedited somewhat because Arise Africa utilizes Zambian contractors and buys materials locally whenever possible.
The organization has already received the first $250,000 installment and will begin construction of phase one this August, which should accommodate over 150 students starting in January 2019.
Arise Africa has already built two homes and a central headquarters called The Complex. The two homes, called the Arise Homes, house 18 children from ages 5 to 18 that are in Arise's full-time care. The students retain their own given names, which range such African names as Mukonda, Armon and Shadrack, to more Americanized names like Fred and Mary. Many of the Africanized names refer to the season of life when the children were born, such as joy, pain, blessings and trouble.
According to Alissa, The Complex, which can sleep 30, is self-sustaining. When not housing Arise mission trippers, children or staff, organizations such as USAid rent the bedrooms at $40/night for doctors to stay during their missionary trips. Some larger nonprofits rent out the entire complex for a week at a time to accommodate their mission groups as well. The Complex is constructed from repurposed metal shipping containers that have been converted with windows and doors.
The next step? "Advancing some of our best and brightest kids to great universities in America and elsewhere in the world," continues Alissa. "We already have one student whose SAT score qualifies for TCU. As we can find scholarship money for these children, we'll be able to make enormous changes in the trajectory of their lives. The goal is not for them to live in America – the goal is to build and grow leaders for Zambia."
In the meantime, Arise Africa is preparing to ship more than 500 Christmas swag bags to Zambia. Even though North Texas is experiencing 100-degree weather, shipping these Christmas gifts to Zambia is least expensive now. The bags will travel across the ocean on a container ship.
Arise Africa is a 501(c)(3) nonprofit Ministry headquartered in Fort Worth, Texas. Founded in 2010, Arise Africa currently has 450 children in a child sponsorship program. They also have two homes where children live in Arise's full-time custody. Arise Africa works to empower children living in extreme poverty by providing them access to education, healthcare, meals, shelter, and the basic needs of life. All of this is done while teaching them the love of Christ. Arise also offers mission trips to individuals throughout the year. They also have a scholarship program where students attend university. Currently, Arise Africa employs forty staff in Zambia and three in America.
Media Contact:
Bob Newman
Phone: 617-952-1470
Email: bob.newman@newmancom.com
-30-
Source: Arise Africa
Related Media
Additional Links