How a Chiropractic Lifestyle Helps Heart Disease and Cancer
Press Release
-
Jul 28, 2016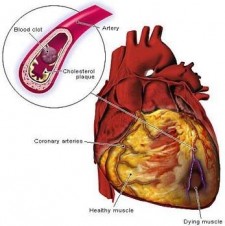 Syracuse, NY, July 28, 2016 (Newswire.com) - With opportunity 1 out of every 3 people are now dying from cancer, the war is over, but the threat is greater than ever before.  While cancer may be our number 1 fear, heart disease is our number 1 problem.  Approximately 1 out of every 3 people in the United States now dies from a heart attack or stroke.   With approximately 2 out of every 3 people in the U.S. dying from heart disease and cancer, America is the sickest organized country in the world.  If you and your family follow the same health patterns and health care methods as the people around you, chances are you and your family will die early from one of these two degenerative illnesses.  By the time you see cancer on a test or you are having a heart attack, it is too late to start getting healthy.  Cancer and heart disease do not just show up they develop SILENTLY over time.
CANCER:  All of us have cancer in our body right now.  Every day the smallest baby to the oldest adult will make cancer cells.    "Everyone has between 100 to 10,000 cancer cells floating in their body at all times.  If the immune system is strong, they are destroyed before any damage is done.  However, new cancer cells develop everyday, so you must keep your immune system in top condition.  If it weakens too much, that's when cancer can establish itself." - Dr. Michael Williams, Professor, Northwestern Medical School
HEART DISEASE:  Hear disease is a silent enemy.  In most cases the first sign of heart problems is an actual heart attack or stroke.  The majority of those heart attacks are fatal.  The reason this killer is so quiet is that most of the heart is working fine.  However, it only takes one small valve, one muscle, or one tiny vessel to begin to quietly malfunction and over time the result is potentially deadly.
THE CAUSES OF DISEASE:  The brain and spinal cord (central nervous system) totally control all functions and healing in the body.  The most common and likely way to interfere with the brain and spinal cord is with the spine.  Abnormal position of the spine and subluxation (misalignment) will create central nervous system interference.  This interference will cause organs of the body (the immune system and heart) to not function or heal normally.
Prescription drugs, chemicals, drug store medication, surgery, stress, poor nutrition, bad posture, and inactivity also cause interference to organ function and healing in the body.
SOME POSSIBLE EARLY WARNING SIGNS:  Because a poorly functioning immune system is the cause of cancer, you or the members of your family are likely to become cancer victims if you have a tendency to get allergies, asthma, colds, flu's, or infections.  Due to improper blood flow to and from the brain, to other organs of the body, and to the joints, people with heart conditions tend to have headaches, joint pain, neck pain, back pain and fatigue.
THERE IS NO CURE, THERE IS ONLY PREVENTION:  By following your Chiropractic care adjustment schedule to keep your nerves working strong.  With chiropractic care, nutrition, exercise, and stress management, you and your family can improve your odds to PREVENT what the rest of America is dying from.
"60-80% of all cancer can be prevented by following a natural healthy lifestyle" - Dr. Barry Levin, Texas Cancer Research Institute
Dr. Joseph Borio and Borio Chiropractic Health Center's (BCHC) purpose is to educate and adjust families toward optimal health with natural chiropractic care.
Contact Information:
Borio Chiropractic Health Center
Dr Joe Borio
(315) 699-1441
8212 Brewerton Rd, Cicero NY 13039
Source: Borio Chiropractic Health Center
Source: Borio Chiropractic Health Center
Share:
---
Categories: Healthcare, Healthcare and Medical News, Chiropractic
Tags: borio chiropractic, chiropractic, chiropractor
---