Houston-Based Home Security Company Announces Exciting New Product Release
Press Release
•
Mar 22, 2023
Innovative Home Security Solutions for Houstonians Seeking Ultimate Peace of Mind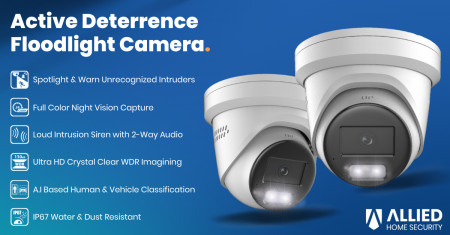 HOUSTON, March 22, 2023 (Newswire.com) - Allied Home Security, a leading home security company based in Houston, is excited to announce the release of its latest innovative product, an A.I.-powered Active Deterrence Floodlight Camera. This surveillance camera is designed to provide the ultimate peace of mind for homeowners and businesses in the Houston area. This state-of-the-art home security camera features cutting-edge technology and offers an unmatched level of protection for families seeking the best in safety and surveillance.
This Floodlight Cam offers a comprehensive solution for Houstonians seeking to safeguard their homes, valuables, and loved ones. The system's advanced features include:
Automated Floodlight (spotlight): Recognizes unfamiliar people and vehicles using A.I. and will put a bright spotlight on them. Depending on the situation, you can have different colors and sounds.
Two-Way Audio Alarm: Not only does it have an automated spotlight, it provides real-time security via a built-in two-way audio alarm.
Ultra HD Resolution: Capture every detail in stunning resolution (4K) and ultra-wide angles (111°). Access live feeds and recorded footage from anywhere using the user-friendly mobile app.
Color night vision: Get clearer pictures, even at night, with the ColorVu technology. Up to 8x clearer picture than traditional IR (infrared) cameras.
Smart home integration: Seamlessly integrates with popular smart home platforms, allowing homeowners to control their security system, lights, locks, and more through a single app.
Professional monitoring: The 24/7 professional monitoring service ensures that help is always just a phone call away in the event of an emergency.
"We are thrilled to offer our new Active Deterrence Floodlight Camera in Texas," says Michael Pittman, Founder and CEO of Allied Home Security. "Our mission is to provide the most advanced, reliable, and user-friendly home security solutions for Houstonians, and this new product release is a testament to our commitment to that mission."
Allied Home Security has been proudly serving the Houston community since 2014, providing exceptional home security systems and monitoring to families seeking to protect their homes and loved ones. With a reputation for outstanding customer service and a comprehensive range of security products and services, Allied has become the go-to provider for Houstonians seeking the ultimate in-home protection.
For more information about the Active Deterrence Floodlight Camera and how Allied can help secure a home, please visit Allied Home Security's website at https://www.alliedhomesecurity.net/ or contact them at 866.255.4338 to schedule a free consultation.
About Allied Home Security
Allied Home Security is a Houston-based home security company dedicated to providing innovative and reliable home security solutions. Established in 2014, Allied has a proven track record of helping families secure their homes and valuables. Our team of experienced professionals is committed to offering exceptional customer service and the latest in home security technology.
Source: Allied Home Security