HouseAware Platinum Contractor Recognizes the Best of the Best for Home Improvement
Ron Sherman Advertising launches the HouseAware Platinum Contractor that tells a homeowner that they can rely on this company for their next project. Qualified Platinum Contractors range from big to small companies and are the "Best Of the Best" for each market.
Press Release
-
updated: Jan 22, 2018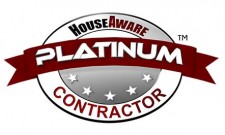 LITTLE ROCK, Ark., January 22, 2018 (Newswire.com) - Ron Sherman Advertising has set a World Record for the number of Television Commercials produced, most for home improvement. The agency founded over 30 years ago has seen and dealt with thousands of home improvement companies that include both good ones and some great ones. They have developed a keen understanding of the qualities necessary for what makes a great reliable contractor. Ron Sherman Advertising is now awarding those truly great contractors all over the United States with the HOUSEAWARE PLATINUM CONTRACTOR Recognition and Seal.
The HOUSEAWARE PLATINUM CONTRACTOR is a third-party endorsement that signifies that a homeowner can count on this company for their next project. These PLATINUM CONTRACTORS have had years of satisfied customers and are committed to customer satisfaction by offering only the finest products at fair prices. The PLATINUM CONTRACTOR Seal provides trust, reassurance, and peace of mind to the homeowner. Some of the major things that the HOUSEAWARE PLATINUM CONTRACTOR Seal tells the homeowner is that the contractor is licensed, bonded, and insured. The selected PLATINUM CONTRACTOR for each market has a long-standing reputation for quality work and satisfied customers. Their product and labor warranties are in writing, along with having a reputation for amazing service after the sale.
The requirements that make up the PLATINUM CONTRACTOR are in place to look out for the homeowner and prevent them from falling for the same pitfalls that thousands of others have dealt with. There are lots of horror stories of homeowners suffering huge problems and setbacks because their contractor did not have the proper insurance, which have led to lawsuits, etc. It is these headaches and financial distresses that a homeowner can face with an uncreditable contractor. The HOUSEAWARE PLATINUM CONTRACTOR Seal is important to the home improvement industry because it gives credibility to the best contractors out of the thousands of home improvement companies out there.
Ron Sherman says, "The best thing about our PLATINUM CONTRACTOR recognition is that it does not matter how big or small a contractor you are; rather we are just looking for the Best of the Best for each contractor's market." The PLATINUM CONTRACTOR is trademarked and can only be used by qualified PLATINUM CONTRACTORS. The PLATINUM CONTRACTOR Seal was established with the new online series, HouseAware, which is about improving your home inside and outside. Visit PlatinumContractor.com to learn more.
ABOUT THE AGENCY:
Ron Sherman Advertising is a global leader in the home improvement industry. The agency consists of some of the industry's top experts and entrepreneurs across the field of advertising and media that range from prior global agency experience, current U.S. Mobile Units Group, to Pepsi. The agency team is composed of multi-faceted talent that ranges from everything from a former Internet Advertising Bureau committee member, an International Academy of Digital Arts & Science (IADAS) member, and a Webbie Judge for The Oscars for The Web. The Advertising Agency was founded over 30 years ago by the former weatherman and now the Guinness World Record Holder, Ron Sherman. Ron Sherman Advertising has generated over 1 Million leads for its home improvement clients and has added over 1/2 Billion Dollars in revenue to their clients' balance sheets. In 2016, Ron Sherman Advertising produced 7,263 TV Commercials and in 2017 the agency produced 8,395 TV Spots. Ron Sherman has set the record for 'Most TV Commercials Produced In The World.' Ron Sherman Advertising, a Google Partner, is in over 100 TV Markets that range from San Francisco to Raleigh Durham. Their commercials appear on such networks as NBC, CBS, FOX, ABC, LIFETIME, DISCOVERY, MSNBC, BRAVO, THE WEATHER CHANNEL, FOOD NETWORK, HGTV, CNN, etc. The Ron Sherman Advertising team consists of individuals from all over the United States, such as California, New York, Tennessee, Connecticut, Arkansas, Texas, Florida, to Georgia, etc. 
Media Contact:
Tommy Swanhaus
510-568-8100
tswanhaus@ronshermanadv.com
Source: Ron Sherman Advertising
---
Categories: Internet and Streaming Media, Business News, Home Improvement and Renovations, Advertising and Public Relations, Television Programs
Tags: americas window, dianna stockdale, home improvement, home remodeling, house aware platinum contractor, houseaware platinum contractor, houseaware platinum contractors, marty buchanan, platinum contractor, qualified modeler, ron sherman, tommy swanhaus
---