Hot New Product 'Turns Up' the Party
Seagram's Escapes Spiked Calypso Colada Launches with 8% ABV
Press Release
-
updated: Feb 2, 2018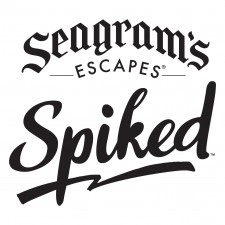 ROCHESTER, N.Y., February 2, 2018 (Newswire.com) - ​Seagram's Escapes continues to "Turn It Up" with another introduction to its popular new high ABV line – Seagram's Escapes Spiked. Spiked Calypso Colada delivers the same deliciously refreshing blend of coconut and sweet pineapple taste that Seagram's Escapes fans have come to love but now with more punch!
Calypso Colada is the newest flavor in the successful Seagram's Escapes Spiked line. Spiked Jamaican Me Happy (charged with citrusy lemon, succulent strawberries, sweet watermelon and guava) and Spiked Strawberry Daiquiri (amped with ripped strawberries delivering a fresh and lively finish) launched late last year.
"Spiked Calypso Colada is a colorful, and delicious way to enjoy the tropical flavors of the islands at home," said Jennifer McCauley-Topor, brand director of Seagram's Escapes. "No need for a plane ticket. Gather your girlfriends. Turn up the music. And enjoy the sweet tropical taste of paradise right in your own home."
Seagram's Escapes Spiked comes in a 23.5 ounce can perfect for turning up the volume for girls night or taking to the beach with friends. When it comes to a good time, the possibilities are endless! Celebrities, tastemakers, and consumers alike enjoy the great taste of Seagram's Escapes Spiked.
Celebrities and Tastemakers Love Seagram's Escapes Spiked:
Taraji P. Henson of Empire, Alicia Quarles of Daily Mail TV, Claire Sulmers of Fashion Bomb Daily and Courtney Kerr of Bravo first learned about Seagram's Escapes Spiked in November during a trip in Jamaica and immediately became fans!
Seagram's Escapes Spiked Calypso Colada is available nationally in convenience stores that sell Spiked Jamaican Me Happy and Spiked Strawberry Daiquiri. Suggested retail price is $2.50-$2.99.
 About Seagram's Escapes Spiked
 Seagram's Escapes Spiked is a higher ABV line of Seagram's Escapes premium malt beverages. Spiked offers the same delicious, "fruit forward" flavor that Seagram's Escapes is known for – now with eight percent ABV. Seagram's Escapes Spiked is available nationally in 23.5oz cans, and comes in top-selling Escapes flavors including Jamaican Me Happy, Strawberry Daiquiri and Calypso Colada.
Spiked, along with Seagram's Escapes, is produced at the Genesee Brewery in Rochester, New York, which a part of North American Breweries. With a world-class team of talented employees, NAB has propelled Seagram's Escapes into the number one cooler brand in the United States. Seagram's Escapes has earned eight consecutive years of sales growth, gaining the attention of industry analysts and earning Impact Databank's Hot Brand Award for five consecutive years. For more information, visit www.seagramsescapesspiked.com.
Please enjoy our malt beverages responsibly.
###
Editor's Note: According to Nielsen AOD, TTL US All Outlets Combined, TTL Beer, PAB & Cider, New Brand Extensions, Eq Vol, latest 13 weeks ending 1/13/18, Seagram's Escapes Spiked Jamaican Me Happy is the #5 new brand in the total beer, flavored malt beverage and cider category and the #3 best-selling new PAB brand in convenience stores.
Media Contact:
Karina Lopez
KC Public Relations
516.655.2716
​karina@kcpublicrelations.com
Source: Seagram's Escapes
---
Categories: Consumer Goods, Food and Beverage Manufacturing, Cooking and Entertaining
Tags: Alcohol, Beer, Flavored Malt Beverage, Home Entertaining, Malt Beverage, Spirits, Women Interst
---