Hospitals Across the USA Are Taking the Next Steps to Provide Equitable Care and Be Inclusive to Minorities
Press Release
•
updated: Apr 5, 2021
Celebrate National Minority Health Month with Vidatak's solutions that reduce health disparities. Your response to this opportunity counts.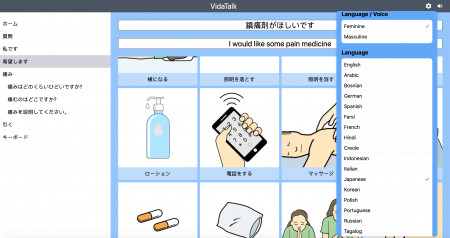 ANN ARBOR, Mich., April 5, 2021 (Newswire.com) - When patients and providers speak different languages, hospital leadership must recognize the increased risk of miscommunication and clinical errors inherent to this predicament. These miscommunications, misunderstandings and errors result in adverse events and inequitable care. Hospital leaders need to acknowledge how often routine care is provided with no language access made available. Ability to use language access during routine care is easy to measure. Compare the frequencies of provider entries into patient rooms and utilization of interpreter services for each patient with limited English proficiency (LEP). Observe and perform 10 audits of LEP patients receiving care from your providers.
Ask the hard questions of your organization. Are your patients with LEP experiencing the same opportunities to communicate their needs and symptoms, and ask questions as their English-speaking counterparts? Healthcare leaders who examine the workflow process related to language access readily identify that shared language access resources are underutilized because retrieving them are disruptive to nursing workflow. Healthcare leaders that take action in response to this awareness can easily provide more equitable care by placing point-of-care multilingual communication tools readily at the bedside.
"Technology can facilitate access to professional interpreter services, but how the technology is utilized determines whether the care of patients with limited English proficiency is improved."1
The cost burden of not providing equitable care exceeds the cost of its solution. Providers who do not communicate effectively with their patients compensate by engaging in costly practices, such as using more diagnostic resources or invasive procedures and over prescribing medications.2
When LEP patients are intubated due to critical illness and cannot speak due to an artificial airway, their risk of medical error and misdiagnosis skyrocket.
VidaTalk and EZ Boards are evidence-based, patient-designed, effective communication resources that reduce health disparities and improve quality of care. Both EZ Boards and VidaTalk are multilingual point-of-care solutions providing the most common routine care needs and are available in 19 different languages.
VidaTalk can integrate with your language access provider, empowering your patients and providers with one-touch access to interpreters without disrupting nursing workflow.
In honor of National Minority Health Month, Vidatak is offering a 3-month trial of VidaTalk along with free consultation on implementing best practices with intubated and LEP patients. Call or email Vidatak and schedule your free trial today! (855) 422-3567
1. Karliner LS. When Patients and Providers Speak Different Languages. Agency for Healthcare Research and Quality; 2018 Apr.
2. Regenstein M, Huang J, West C, et al. Hospital Language Services: Quality Improvement and Performance Measures. In: Henriksen K, Battles JB, Keyes MA, et al., editors. Advances in Patient Safety: New Directions and Alternative Approaches (Vol. 2: Culture and Redesign). Rockville (MD): Agency for Healthcare Research and Quality (US); 2008 Aug.
Source: Vidatak, LLC