Hospital at Home Program Helping Cancer Patients and Their Families With Medical and Financial Support Services
Press Release
•
Jun 29, 2022
The Alberta Children's Hospital At Home Program Assists a 13-Year-Old Canadian Girl's Difficult Journey With the Same Bone Cancer as Terry Fox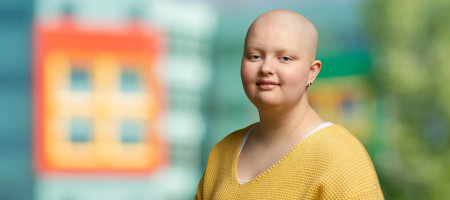 CALGARY, Alberta, June 29, 2022 (Newswire.com) - As a competitive dancer and avid horseback rider, Lauren Gamble's life changed completely on Aug. 13, 2021. Lauren received an osteosarcoma diagnosis, a type of bone cancer that most commonly occurs in the long bones around the knee. The Alberta Children's Hospital explained that osteosarcoma happens most often in children, adolescents, and young adults - it's the same type of cancer that Terry Fox battled. For many patients, the symptoms of osteosarcoma include pain or swelling in the affected bone and decreased mobility of the affected limb. For Lauren, hers began as pain which was later confirmed to be a mass the size of a brick growing in her leg. Fortunately for Lauren, she was able to receive parts of her treatment through Hospital at Home, a program the first of its kind in Canada funded by donations to the Alberta Children's Hospital Foundation.
Soon after her diagnosis, Lauren entered 10 months of intense chemotherapy and an 18-hour surgery to remove the tumour and affected bones from her legs. The medical team reconstructed what was removed during the procedure with prosthetics and muscles from other areas of her body. Most recently, she had a thoracotomy to remove nodules in her lungs.
The mental, emotional, and financial challenges of a cancer diagnosis
For cancer patients, one of the most difficult challenges is being away from home, the familiarity of homecooked meals, and the comfort of their own bed - all of which can have a significant impact on a patient's mental and emotional health.
The Hospital at Home service sends trained nurses to the patient's home for chemotherapy, administering medications, and other supportive therapies. This greatly reduces travel time and generic costs such as parking, gas, and meals.
Lauren's mom, Lindsays, says, "Hospital at Home is truly a Godsend. Without it, we would have spent over 50 more nights in hospital. This program gave Lauren the will to survive and persevere through the terrible treatments. The familiarity of family meals, smells, and her own bed were important. Even more essential was just the ability to 'be' a teen surrounded by those she loves. I will forever be grateful." You can view Lauren's page here.
Helping families like Lauren's
There are many significant costs associated with cancer. Particularly for osteosarcoma, patients require medical supplies, home retrofits, an adjustable bed, a wheelchair, a walker, and for Lauren, hearing aids as chemotherapy has permanently damaged her hearing.
Donations and programs help families like Lauren's alleviate the financial burden and allow them to focus on taking care of their child, rehabilitation, making memories, and spending quality time during one of the most difficult situations a family can face.
The Gamble family is especially thankful for the help of their community and their generous donors: "We would like to say thank you to Randy and Cameron Schiffner and the entire group at Family First Financial for your generous monetary gift as we continue our battle of fighting cancer."
For Lauren and her family, the surgeries and treatments have been successful but the journey is far from over. Visit the Alberta Children's Hospital Foundation website to find out more about how you can help babies, kids, and teens receive the best care possible. If you have any concerns and would like to speak to someone, call (403) 955-7211.
Source: Hospital At Home
Related Media