Horizon Solar Power and Ice Energy Partnership Leads to Innovative Energy Solution at the Camelot Theatres in Palm Springs
Revolutionary solar-plus-ice-battery-storage system successfully reduces both the Theatres' energy bill and community's carbon footprint.
Press Release
-
updated: May 23, 2017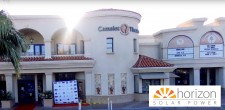 Temecula, CA, May 23, 2017 (Newswire.com) - Horizon Solar Power (Horizon), a premier marketer, seller, designer, and installer of residential and commercial solar systems in California, and Ice Energy, the leading provider of distributed thermal energy storage solutions, recently completed the installation of a solar-plus-ice-battery-storage system at the Camelot Theatres in Palm Springs, CA. With California and the nation's increasingly rapid adoption of distributed energy resources, the installation demonstrated the economic and environmental value of combining solar PV with ice battery storage to displace peak electricity demand and enable solar self-consumption on a grid-wide scale. 
The Camelot Theatres, a three-screen movie house specializing in first-run art, foreign and independent films, sought a cost-efficient and environmental-friendly energy solution to replace their building's depleted and failing HVAC system. With nine months of extremely hot temperatures, the majority of the theater's electrical usage is dedicated to their critical air conditioning needs. The Camelot Theatres' Management team explored various technologies and chose the combination of a Horizon Solar Power installed solar array combined with new HVAC units from Ice Energy. "The combination of the two companies provided us with an incredible option to cut our cost during peak usage hours," said Matthew Christensen, General Manager at the Camelot Theatres.  
A solar-plus-storage system comprised of a rooftop array of 73.6 kW of solar panels and five Ice Energy Ice Bear 30s replaced the theater's outdated HVAC system. During the day, the solar PV supplies the energy needs of the theater, including charging the Ice Bears. In the evening, the Ice Bears provide up to four hours of comfortable cooling using a fraction of the electricity normally needed.
"The Camelot Theatres' greatest energy load comes from turning on the AC in late afternoons and early evenings for community events," said Claude McGee, Horizon Solar Power Director of Business Development. "The clean energy created by our solar PV system, combined with the flexible storage and cooling solution provided by the Ice Bears, reduces both the Theatres' energy bill and the community's carbon footprint. We look forward to working with Ice Energy on more projects like this across California and the rest of the U.S."
"We're witnessing a trend in which the incentives for solar power export are decreasing, so businesses and homeowners are looking for new ways to maximize their investments in solar PV," said Mike Hopkins, Ice Energy CEO. "A well-designed solar-plus-ice-storage system like this one can provide efficient cooling comfort, optimize the use of solar over-generation, and help utilities to flatten their load on a grid-wide scale."
California's Self-Generation Incentive Program (SGIP), combined with Property Assessed Clean Energy (PACE) financing, enabled the theater to install the solar-plus-ice-storage system with minimal up-front investment.
About Horizon Solar Power | Since 2008, Horizon Solar Power (Horizon) has served as a premier designer and installer of residential and commercial solar systems in California. Rated an A+ by the Better Business Bureau and ranked among the United States' best solar companies, Horizon specializes in providing customized solar systems that precisely fit its customer's home, energy and savings goals. Backed by Oaktree Capital Management, a leading global alternative investment management firm, the company has grown to be one of the region's most trusted solar installers through its passionate commitment to providing industry-leading energy savings and customer-centric solar solutions, delivered through superior and dependable service. Visit www.HorizonSolarPower.com to learn more.
About Ice Energy | Ice Energy is a leading energy storage provider for the grid. Its Ice Bear units deliver behind-the-meter ice battery storage for HVAC systems in commercial, industrial and residential applications, and now commercial refrigeration, providing peak capacity to over 40 utility service territories nationwide. With contracts to deliver 25.6 MW of storage to Southern California Edison in partnership with NRG Energy; 5 MW in Riverside, CA; 6 MW in Redding, CA; and an additional 450+ MW in the sales pipeline, the company is expanding quickly in the U.S. and internationally. For more information, visit www.ice-energy.com.
Media contacts
Frank Kneller
Horizon Solar Power
Tel: +1 847.337.4076 
frank@horizonsolarpower.com
Brian Fallers
Muse Marketing + Creative
Tel: +1 302.559.6431
brian@musemc.com
Source: Horizon Solar Power
Share:
---
Categories: Energy, Alternative Energy, Local News
Tags: California, California-based solar company, commercial solar, energy savings, Horizon, Horizon Solar Power, solar, solar designer, solar installer, solar panels, solar power
---