Honey Stinger Debuts New Oat + Honey Bar
Press Release
•
Mar 27, 2023
Fuels Athletes Everywhere, Including DeVonta Smith, NFL Philadelphia Eagles Star Wide Receiver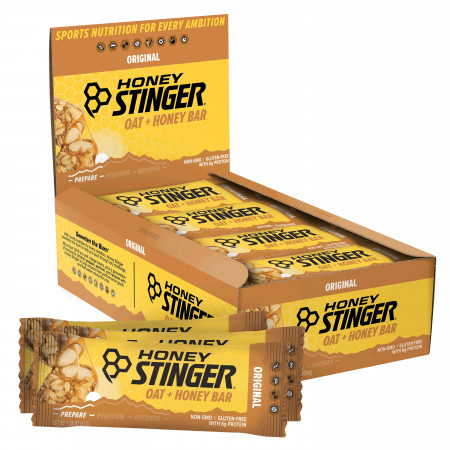 STEAMBOAT SPRINGS, Colo., March 27, 2023 (Newswire.com) - Honey Stinger®, the brand behind the delicious products that provide sports nutrition for every ambition, debuts the Honey Stinger Oat + Honey Bar.
Honey Stinger products are used and loved by NFL Star DeVonta Smith and fuel more than 1,000 professional and collegiate athletic teams, along with countless athletes and fitness enthusiasts.
Honey Stinger's products are specifically designed to fit the three nutritional categories any active person needs - Prepare, Perform, and Recover. The new bar fits into the Prepare category and features a delicious pre-workout blend of carbs, fat, and protein. The Oat + Honey Bar comes in two flavors, Original and Chocolate Chocolate Chip, and joins the complete Honey Stinger line of waffles, bars, chews, gels, and hydration. All the products are formulated to taste great while providing the perfect balance of carbs, fat, and protein, depending on what is needed for each stage of exercise.
"The Honey Stinger line of products taste great, and they make it easy for me to get the nutrients I need to perform at my peak," says DeVonta Smith. "I'm excited about the new Honey Stinger Oat & Honey Bar as it adds another healthy choice to my morning routine and provides energy for me to perform and prepare. And it is not just for athletes like me but for anyone who wants to feel their best as they prepare to work out and enjoy activity."
The idea for the new bar came from a poll Honey Stinger conducted to determine what athletes preferred to eat before training. The overwhelming response was a bowl of oatmeal with nut butter. Honey Stinger took that athlete-favorite breakfast bowl and made it portable.
At 190 calories, The Oat + Honey Bar is specifically formulated to help active people prepare for a workout, with a balanced blend of 23 grams of carbohydrates, 9 grams of fat, and 6 grams of protein. The bar's core consists of freshly ground peanuts, oats, and honey rolled in caramel and coated with toasted oats and quinoa crisps. Both flavors are gluten-free and non-GMO.
"As a performance dietitian, I'm always educating clients and my audience on nutrient timing to optimize their energy levels and recovery," says Kelly Jones. RD. "Eating enough energy and carbohydrates to fuel muscles and the brain in preparation for training and competition is first priority. Honey Stinger helps active individuals at every level do just that with delicious and convenient energy from their products - like the new Oat + Honey Bar."
Source: Honey Stinger
Related Media