Homes by Taber's Serving as Drop Off Sites for Dress for Success
OKC homebuilder donated $21,000 to help non-profit rebuild
Press Release
-
updated: Jun 6, 2020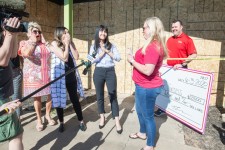 OKLAHOMA CITY, June 6, 2020 (Newswire.com) - Local Home Builder open model homes to restock Dress for Success and donates $21,000 to help them rebuild.
After arsonists burned down the Dress for Success building in Oklahoma City, Homes by Taber felt the urgent need to reach out and see how they may help restock what was lost. After requesting to meet the leaders and founder of the organization, Julie LeBlanc, Owner and Charity Director of Taber's charity initiative Taber Cares, announce that they would be serving as donation drop off sites across the OKC metro in 17 of their model homes from Edmond to Norman and at their main office located at 305 W Memorial Rd in Oklahoma City.
In addition to announcing these drop off locations, Homes by Taber surprised Dress for Success with a $21,000 check to help them get back on their feet sooner.
Each month, the Taber Cares initiative donates $250 for every home sold in that month to a preselected local non-profit. In May, the preselected charity was the YMCA Feeding Kids program that helps children who are food insecure receive meals outside of school hours. May tied Homes by Taber's largest month of sales with 84 homes sold, so $21,000 was donated to the YMCA Feeding Kids program. After hearing of the tragedy that Dress for Success experienced, Taber and Julie LeBlanc decided to do a double donation and match that $21,000 donation for Dress for Success, totaling $42,000 from the Taber Cares initiative.
"Let's work together to rebuild this non-profit that has helped rebuild so many lives in Oklahoma City," encourages Taber LeBlanc, President of Homes by Taber.
Through May in 2020, $106,500 has been donated to the selected non-profits. 2020 has been especially trying for all non-profits because most fundraising efforts were cancelled due to the strict regulations placed on gatherings during the COVID-19 pandemic. It's because of the donations made by the Taber Cares initiative that some of these non-profits have been able to continue to operate.
Information on the clothing drive, including the location and the hours of operation may be found in this link: https://dfs.tabercares.com
Men's clothing is welcomed and all that is donated will be donated to a men's charity in need.
Homes By Taber, an award-winning homebuilder in the Oklahoma City metro area, offers new, energy-efficient homes starting at 1,500 square feet of indoor living space and going up to 3,350 square feet of indoor living space. Prices for these new single-family homes start in the low $200,000 range and go up to the mid $500,000 range. Homes By Taber was founded in 2000 by Taber LeBlanc and currently builds in 22 different locations with new homes for sale in Deer Creek, Edmond, Moore, Mustang, Norman, Oklahoma City, Piedmont and Yukon.
Source: Homes by Taber
Share:
---
Categories: Construction
Tags: Dress for Success, George Floyd Protest, Home Builder, New Home Sales
---