Homes by Taber Supports OKC Charities in Its February Campaign
Habitat for Humanity and Anna's House benefit from homebuilder's support.
Press Release
-
updated: Mar 6, 2017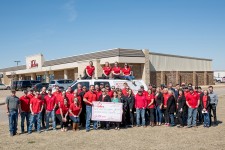 Oklahoma City, OK, March 6, 2017 (Newswire.com) - Homes By Taber continued its commitment to the Oklahoma City community with two more charitable efforts in February. The local homebuilder established the Taber Cares initiative to focus on maintaining a steady flow of fundraising and volunteering.
In February, Homes By Taber sponsored a new home that is being built in Legacy Estates, a community development of the Central Oklahoma Habitat for Humanity. On Saturday, February 25, more than 20 Homes By Taber employees helped to frame the new house. The new owners-to-be pitched in, working side by side with the volunteers, which included Taber LeBlanc, the company's founder. LeBlanc created Taber Cares and encourages his team members to be involved in those charities and causes that spark their passion. Taber Cares is comprised of a member from every department. Each person chooses a charity to benefit from the company's fundraising. During the specified month, the charity receives $250 for every Homes By Taber home sold during that time.
February's recipient, The Anna's House Foundation, received a check for $6,250. This organization helps Oklahoma City's foster children find loving, stable homes. With 2,500 foster children living in Oklahoma County, and only 500 foster homes, the demand far exceeds the number of caring homes. Siblings are often separated at a time when they need to stay together.
There are so many people who need help. Whether donating money, time, or both, we owe it to our community to give back.
"There are so many people who need help. Whether donating money, time, or both, we owe it to our community to give back," explains LeBlanc.
In March, Homes By Taber will focus on raising money for Infant Crisis Services. This organization provides formula, food, and diapers for babies and toddlers. Infant Crisis Services began in 1984, as a service project for a church's Sunday school. Today, the outreach includes a mobile food, formula, and diaper pantry, as well as offering resources to provide education, guidance, and emotional support to the families they serve.
For more information about Homes By Taber and Taber Cares, contact Lindsay Haltom at (405) 509-0670 or visit www.homesbytaber.com.
About Homes By Taber
Homes By Taber was founded in 2000 by Taber LeBlanc, a former insurance claims adjuster who used his knowledge—and degree in Business Marketing and Business Management from Oklahoma State University—to meet the need for a service-oriented homebuilder. He partnered with his father-in-law, John Alexander, who had more than 30 years of experience in building and development. Homes By Taber currently builds in 15 different locations around the OKC metropolitan area.
https://www.homesbytaber.com/news-and-press/detail/Homes-By-Taber-supports-OKC-charities-in-its-February-campaign​
Source: Homes By Taber
---
Categories: Non Profit, Real Estate, Real Estate
Tags: Anna's House, Charity, Donation, Giving Back, Habitat for Humanity, Homebuilder, New Construction, Oklahoma City
---