Homeless, Disabled Veterans Get the Respect They Deserve by Operation Confidence
Press Release
-
updated: Jul 25, 2017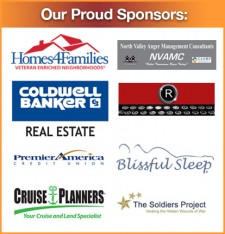 GRANADA HILLS, Calif., July 25, 2017 (Newswire.com) - From the moment she saw the encampment of homeless, disabled veterans living across the street from the Los Angeles Mission on Skid Row in 2009, Consuella Mackey knew she had to do something. As Executive Director of Operation Confidence, an organization that provides wraparound services to individuals with a disability she began hosting community outreach events throughout the City of Los Angeles to bring awareness about the urgent need to get our American disabled heroes off the streets. 
The nonprofit's flagship event, "A Tribute to Our Veterans" gala, is being held at the Knollwood Country Club, 12024 Balboa Blvd., Granada Hills, CA 91344 on July 30, 2017 from 3:00 p.m. to 7:00 p.m.
All proceeds from the tribute event will go toward Operation Confidence's Turning Point House Project, to purchase and refurbish a low-cost housing for homeless disabled veterans. Veterans will live in the home where they will receive nutrition, assistance with mental health and substance abuse issues, adaptive equipment and other related services to help them become a productive member of society and live independently once again. 
"'Support our veterans' has become a mantra in American Society. It's on the lips of politicians, community leaders and people on the street, but unfortunately when it comes to 'disabled' veterans, many are homeless, overlooked and forgotten," stated Mackey.
Mackey has gathered together a distinguished group of military, police and fire department personnel, politicians, and members of organizations that support veterans to preside over and speak at the event. Brigadier General Ruth Wong (ret) Director Los Angeles County Veterans Affairs will be keynote speaker, and also feature Congressmember Brad Sherman; State Controller Betty Yee (representative); California Assemblymember Dante Acosta; Los Angeles County Supervisor Kathryn Barger; Battalion Chief Steve Ruda, Los Angeles Fire Department; Captain Bryan Lium, Commanding Officer, Los Angeles Police Department-Devonshire Division; Dr. Mark P. Ryan, Superintendent North Valley Military Institute College Preparatory Academy; Jim Howard, MBA, CPA, Former President, Treasurer and Member of the Board of Trustees of the Orange County Ronald McDonald House; Judge Herbert Dodell; and John Brown, FBI Agent in Charge of the Administrative Branch of the Los Angeles Division.
The Director of the Veterans Resource Center at CSUN, Patrina Croisdale will preside over the gala as Mistress of Ceremony. 
"A Tribute to Our Veterans" honors those who served in our armed forces. 
Operation Confidence will celebrate the memory and 100th Birthday of First Sgt. Margaret Bellino-Barker who passed away on July 17, 2017.​ She served during WWII as a 1st Sergeant at Fort McDowell Angel Island, San Francisco and was responsible for processing veterans coming in from overseas. Today Sgt. Barker volunteers her time to veterans organizations.
This year's honorees include:
Battalion Chief Steve Ruda, Veteran Los Angeles Fire Department
Jose Sanchez, Marine Veteran, Assistant Director, Veterans Employment and Training Services (VETS) Investigator with the U.S. Department of Labor
Jason Agcaoili, Coldwell Banker Residential Brokerage - Palos Verdes Beach Cities
Charles (Chuck) Schwartz, Commander, Jewish War Veteran Post 603, San Fernando Valley
Officer Anna Villasenor, Los Angeles Police Department-Devonshire Division
Jonathan Kim, Mortgage Loan Originator, HomeBridge Financial Services
Pedro De Leon, Financial Advisor, RTB Financial Group
Jose Martinez Pila, Account Executive, Lubnau Gonzalez Insurance Agency
Officer Jeffrey Johnson, Los Angeles Police Department-Devonshire Division
Sgt. Coy Reyes, U.S. Marine, Readjustment Counseling Therapist, Chatsworth Vet Center and Sepulveda Outstation
 Francis Orbin
Shanty Acevedo, Global War on Terror Outreach Specialist for the Chatsworth and Sepulveda Vet Centers
Ric Maddox, U.S. Army veteran, Dir. Of Corporate Events, The Stadium
99-year-old WAC, First Sgt. Margaret Bellino-Barker will be Operation Confidence Historian Honoree representing women in the military. She served during WWII as a 1st Sergeant at Fort McDowell Angel Island, San Francisco, and was responsible for processing veterans coming in from overseas. Margaret will celebrate her 100th birthday in August but continues to volunteer for veterans' organizations.
Tayloure Richardson, Ms. Wheelchair 2017 was born with Osteogenesis Imperfecta, also known as brittle bones. A volunteer with Operation Confidence, Richardson has a Bachelor of Arts degree from California State University Northridge in sociology and is working toward a Master's degree in social work with a concentration on veteran affairs at the University of Southern California.
To help support Operation Confidence mission to raise funds for the Turning Point Housing Project for Homeless Disabled Veterans, there will be an auction hosted by Creative Charity Auctions which will include travel and experience packages, sports, music and entertainment collectibles as well as animation, art, photography, jewelry and more.
To become a sponsor of "A Tribute to Our Veterans," or to attend the upcoming gala, visit OperationConfidence.org or contact Mackey directly at (818) 368-4407 office or (818) 282-4916 cell.
The event will include dinner, award presentation and Operation Confidence Combat Boots & Lace Fashion Show, an inclusive group of male/female veterans and civilians. With the support of fashion minded civilians, a veteran with a physical disability is given the opportunity to build confidence and self-esteem while using the beauty industry as a form of rehabilitation.
Since 1980, Operation Confidence has assisted more than 10,000 individuals with disabilities by providing wraparound services to better their lives in mainstream society. The organization was established by Consuella Mackey, who at the age of 20 broke her foot and found herself disabled for a short period of time. This experience humbled her and showed her through the eyes of a person with a disability the many challenges they face daily.
To be announced at the event will be Operation Confidence's 2018 Carnival Cruise, a Veterans and Civilians 3-Day Party Cruise to Baja, Mexico leaving Los Angeles on February 23, 2018. Five (5) veterans can be sponsored for $2000 and (6) for $2300 in the same category. For additional information please contact: ocdisabledveterans@gmail.com or call (818) 282-4916.
Contact Information
Consuella Mackey
(818) 368-4407 (Office)
(818) 282-4916 (Cell)
ConsuellaMackey@aol.com
www.OperationConfidence.org
Source: Operation Confidence
Share:
---
Categories: Non Profit, Military and Defense
Tags: community, fundraising, Long Beach, Operation Confidence, veterans
---