Home to the Most Interesting Members of the Greatest Generation
Press Release
-
updated: Aug 28, 2020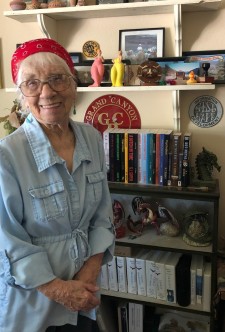 TUMWATER, Wash., August 28, 2020 (Newswire.com) - Olympics West Senior Living Community in Tumwater, WA, is home to some of the most interesting members of the Greatest Generation. Among our residents, they have teachers who have schooled generations of children, doctors who have treated a plethora of patients, pilots who have soared in the clouds, and scientists who have explored the unknown. The Olympics West community is a true melting pot where people from all walks of life join together to make an amazing community. One of our celebrated residents is Shirley Soper, aka S.I Soper. A trailblazer who overcame gender bias to become a prolific author. Read on to learn more about her incredible life. 
S.I. Soper – Author, Adventurer, Trailblazer
"We interrupt this broadcast" – four little words that created a panic and birthed a future writer.  
On Oct. 30, 1938, Orson Wells was on the radio reporting the invasion of New Jersey by aliens from another planet. Listening with captive attention was a little girl with a huge imagination. The images and emotions that were painted by the words flowing from the radio were spellbinding. And though all her family gathered around that radio, spellbound by the story, they "knew it wasn't real," remembers Shirley Soper. Knowing the truth, however, didn't dampen the excitement of the moment. In the years to come, Shirley would look back on that evening and declare that her life as a writer, and an adventurer, and a trailblazer was born. Today, at 90 years old, she is still cutting new trails.
Born in rural Washington State, Shirley spent much of her childhood moving from one home to another with her parents. "We moved a lot, and I found it hard to make new friends" she recalls. In order to combat the loneliness, she became both a people-watcher and a storyteller. Becoming a "student of people" became her hobby and would prove quite valuable in her career as an author.
Click here to read the full article: http://bit.ly/JEASeniorLiving
Source: Olympics West Senior Living Community
Share:
---
Categories: Seniors
Tags: Senior Lifestyle, Senior Living, Writers
---