Home Security Has Never Been Easier
Lorex introduces the first wire-free security camera system without monthly fees
Press Release
-
updated: Mar 1, 2018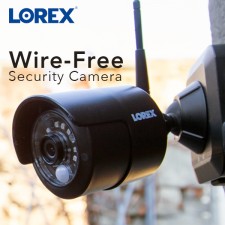 Markham, Ontario, March 1, 2018 (Newswire.com) - ​​​​For over twenty years, Lorex has provided homeowners with professional grade security camera systems that do not require professional installations. Today, Lorex has made this DIY installation process even easier with the introduction of their wire-free security solution. The cameras in this system are completely wire-free, and can set up in mere minutes. Unlike other security systems, however, they do not record continuously. Instead, they use advanced motion detection to trigger recordings. There are no mandatory monthly fees either, as recordings are stored on a Digital Video Recorder (DVR), rather than the cloud. With the convenience of wire-free, and plenty of the same features customers have come to expect from a Lorex security camera system - such as full HD recordings, long range night vision, and easy remote viewing -  this system is set to transform home monitoring forever.
Wire-free cameras are fully battery-operated, and require no cabling whatsoever to connect them to the DVR. Their long distance wireless range of around 450ft also allows them to be installed in locations all around a residential property to ensure proper coverage. Each wire-free camera includes a rechargeable lithium-ion battery Power Pack that simply slides into the back section of the camera. A quick-release function then allows customers to remove them without detaching the camera from its mount. The battery life for these Power Packs can last up to four months before having to recharge them, but this is highly dependent on the amount of motion activity each camera senses.
Wire-free security cameras only start to record when they detect motion. They use a Passive Infrared (PIR) sensor that detects moving heat patterns typically emitted by humans, animals, or vehicles. Upon detection, the wire-free camera will wake-up and start to record. This is why the positioning of wire-free cameras is especially important. They are not meant to monitor high traffic areas, as the battery will drain quickly if the camera turns on and off too often. Rather, they are meant to monitor important doorways, garages, backyards, or the sides of a house that have minimal traffic, but would still capture a someone that is not supposed to be there.
This system is the first, and only, wire-free security camera system on the market that records to a security grade Digital Video Recorder, or DVR for short. This allows customers to keep their recordings safe within their own hands, rather than in a cloud somewhere. This also means that there are absolutely no monthly cloud storage fees moving forward. And since motion recordings are short, they do not take up much space on the DVR. This means that customers can potentially store up to two years of recordings before it will start to overwrite the oldest footage. Customers can also manually upgrade the hard drive to a 6TB hard drive, which will keep video data virtually forever.
Just because the cameras are wire-free does not mean that Lorex has forgone the qualities that has made them a leader in the security camera industry for over twenty years. With full 1080p HD resolution recording, long range night vision, and weather-resistant exteriors, these wire-free cameras retain the qualities that are required for professional surveillance.
Wire-free systems are also easily connected to the Lorex Secure app for smartphones and tablets. This app makes home monitoring even easier. Customers can turn on a camera to see the live view, watch recorded playbacks, see exactly what happened and when with the easy-to-read history timeline, receive low-battery notifications, and halt any future recordings of an individual camera using the new privacy mode, all from their fingertips. Motion activated push notifications will also keep customers in the know of any movement caught by their security cameras.
In the end, a wire-free security system from Lorex is a perfect DIY home security solution to help protect the people and the things that matter most.
About Lorex: Lorex Technology is focused on bringing the latest and greatest video technology to all our members so that they can capture their life experiences in vivid detail. We provide homes and businesses alike with professional-grade video camera systems that are simple to use and easy to install. Packed with industry-leading features and exceptional Cloud-based secure technology, our solutions will be the eyes of your smart-home.
Contact:​
Richard Butts​
416-540-9108
​Director Digital
Source: Lorex Technology
---
Categories: e-Commerce, Consumer Electronics
Tags: 4k security cameras, color night vision, weather resistant security cameras
---