Holistic Gaming, NFT and Metaverse Ecosystem GamesPad Acquires Mompozt - an Animation and Cinematic Video Production Studio
Press Release
•
Jan 25, 2023
GamesPad, the ultimate blockchain gaming ecosystem, acquires Mompozt, an animation and cinematics production studio.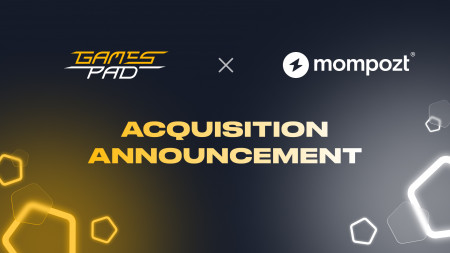 ROAD TOWN, Virgin Islands (British), January 25, 2023 (Newswire.com) - The innovative gaming, NFT, and metaverse ecosystem GamesPad has recently acquired Mompozt, one of the leading video production studios specializing in high-quality animation and cinematic production.
Mompozt has become a GamesPad's video production arm and a part of its holistic ecosystem that hosts a variety of features, including the NFT marketplace, game- and metaverse-specific launchpad, Web3 incubator, venture capital fund, metaverse, AR/VR/3D development studio, and more.
GamesPad is driven by the mission to become the one-stop shop for everything GameFi, Metaverse and NFTs and propel these innovations to the mainstream, offering Web3 entrepreneurs mentorship, advisory, business connections, and resources needed for a successful launch and sustainable growth of these projects in the industry. At the same time, the platform offers appealing opportunities for retail investors to fund high-quality projects that passed the due diligence of the experienced GamesPad team and, potentially, get high returns on their investments.
The acquisition of Mompozt has contributed to the further growth of the GamesPad ecosystem and enabled to company to assist prospective projects with the production of next-level animation, breathtaking cinematics, eye-catching commercials, and engaging 3D characters - everything needed to help brands introduce their products and digital experiences to the audience in a truly compelling way.
The Mompozt team has over 14 years of experience in the market. The company is known for producing attractive animated videos, commercials, cinematic trailers, NFT characters, and animated characters for the game, metaverse, finance, crypto, automotive, and other industries.
They were creating ads, reels, content, and series for a number of clients around the globe in countries like the United States, Colombia, China, Italy, Spain, Montenegro, Brazil, etc. Their previous clients include world-known brands such as Palmolive, Kia, Oreo, Kinder, Colgate, Miniso, Alpina, BBVA, Renault, and many others.
This acquisition will consolidate the efforts of both companies to offer top-quality services to their clients and supercharge the growth of both companies and empower their clients worldwide.
About GamesPad
GamesPad is a holistic gaming, NFT, and metaverse ecosystem. It is a one-stop shop for everything GameFi, metaverse, and NFT that brings together a Web3 incubator, game-specific multichain launchpad, decentralized venture capital, NFT marketplace, in-house gaming and production studios, metaverse, and much more. GamesPad is the culmination of years of expertise, research, and passion of the professional team committed to propelling blockchain gaming and metaverse to the mainstream.
About Mompozt
Mompozt is an animation & cinematics studio and a subsidiary company of GamesPad, the global gaming, NFT, and metaverse ecosystem. The company creates highly-engaging animated stories, cinematic trailers, commercials, and characters for agencies, brands, and game developers. Mompozt is constantly evolving and adapting to the needs of global clients, such as Nestle, Ferrero Rocher, BBVA, Colgate, Palmolive, Renault, Kia, and others.
Visit us on social media:
Twitter
YouTube
Telegram Official Announcements
Telegram Chat
Instagram
Facebook
Discord
Source: GamesPad