Holiday Survival Guide With Lifestyle and Entertainment Expert Josh McBride Shared on Tips on TV Blog
Press Release
•
updated: Dec 12, 2017
How-To for Savvy Shoppers So They Can Save Money and Have Fun This Holiday Season!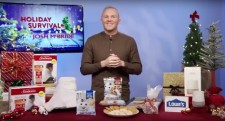 ATLANTA, December 12, 2017 (Newswire.com) - Many people think of the holiday season as something to survive, while others look at it as a fun time to be cherished with family and friends. Lifestyle and entertainment expert Josh McBride gives some holiday survival tips to help people make the most of their holiday experience.
HOLIDAY SURVIVAL KIT
It all starts with the presents. Finding the perfect gifts gets shoppers halfway there. Everyone loves tech gifts and a great one is Google Home. It is like having a personal assistant. With simple voice commands, this gift will give information about traffic, sports, finance and more. It can also, stream videos directly to the television, set alarms, play music and ask for directions - all from the comfort of home. It is available at Lowe's. Make the most of this year's holiday shopping at Lowe's. Whether shopping for the weekend DIYer, a chef in the kitchen or a tech-savvy relative, Lowe's is the one-stop shop this holiday season. Get a Google Home there and find gifts for the other members of your family as well. For more information, visit www.Lowes.com.
HELPFUL TIP IN THE KITCHEN
The next survival tip is to help save a little time in the kitchen. This holiday season have new and improved refrigerated cookie dough from Pillsbury. The new Pillsbury cookie recipe has an even better homemade taste without artificial flavors, colors, preservatives and high fructose corn syrup. With the new and improved refrigerated cookie dough from Pillsbury, everyone can have warm, delicious just-baked cookies in minutes! For more great recipes, visit Pillsbury.com.
RECOMMENDED WAYS TO RELAX THROUGH THE HOLIDAYS
The holidays are fun, but they can also be a pain, literally. Decorating the tree, taking a family ski trip or hitting the holiday parties around town is fun, but it can often lead to unwanted muscle aches. An option for shoppers is the Sunbeam® Renue™ Neck Wrap. While traditional heating pads are hard to keep in place, the Neck Wrap is tailored to the shape of the body with a magnetic closure to provide natural, targeted heat for maximum pain, tension and muscle relief. The Sunbeam® Renue™ Neck Wrap uses the time-proven power of heat therapy, helping relax muscles and promote blood flow. It is great for the shopper or as a gift! It is highly recommended! For more information, visit www.Sunbeam.com.
https://www.youtube.com/watch?v=tjHjWsciB04
http://www.tipsontv.com/holiday-survival-guide-with-lifestyle-and-entertainment-expert-josh-mcbride/
Contact: tipsontv@gmail.com
Source: Tips on TV
Related Media