Holiday Luxury Gift Guide With Unique & Impressive Gifts for All at LimogesCollector.com
Press Release
•
Oct 25, 2016
For those who seek exceptional and unique gifts to impress the recipient this Holiday season, LimogesCollector.com is the one-stop gift shopping destination. With thousands of styles to choose from, luxurious fine hand-painted French Limoges boxes will make just the perfect gift for every taste.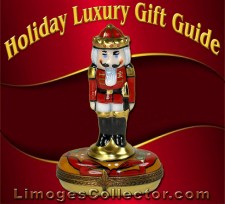 Los Angeles, California, October 25, 2016 (Newswire.com) - ​​The holiday season is a celebration of joy that brings loved ones together, and LimogesCollector.com has the perfect gifts to make family, friends, and all those near-and-dear feel special. Whether it's the fashionista, the art lover, the travel enthusiast or the master chef, LimogesCollector.com has an abundance of Limoges Box styles sure to warm the hearts of those who mean the most.
"We have rounded up a spectacular selection of the most beautiful and artistic French Limoges boxes for enchanting gifts for young and old" says Vida Cunningham, the company's founder. "Our website is brimming with fantastic Limoges box gifts for quick and easy Holiday shopping. And, if you need a little help, the dedicated staff at LimogesCollector.com make picking the perfect present easier than ever."
Our website is brimming with fantastic Limoges box gifts for quick and easy Holiday shopping. And, if you need a little help, the dedicated staff at LimogesCollector.com make picking the perfect present easier than ever.

Vida Cunningham, Founder
No time of year inspires the sentiments of love, caring and generosity quite like the holiday season. The exceptional selection of artistic French Limoges boxes at LimogesCollector.com offers gifts that are sure to excite and enchant everyone on the shoppers' holiday gift list.
Holiday Keepsake Limoges boxes
The dazzling collection of Christmas and holiday Limoges boxes at LimogesCollector.com truly captures the magic and wonder of the Holiday season with a distinctive selection of glorious hand-painted Nativity Scenes, Santas, Snowmen, Gingerbread Houses, Angels, Candy Canes, Wreaths and various other Holiday Limoges boxes for gifts and home décor that will be cherished for a lifetime.
Gifts for the Professional
Impress the professional with an exceptional gift that relates to her or his profession. The Professional Limoges Box collection at LimogesCollector.com has a gift for a lawyer, doctor, nurse, dentist, businessman/woman, teacher, musician, chef and so much more. A high-end Limoges box gift will pack a big punch with the professional on anyone's list.
Gifts for Her
A plethora of enchanting Limoges box art pieces are here to surprise her this season. Many exclusives and one-of-a-kind Limoges boxes will truly impress the fashionista, the art lover, musician, culinary enthusiast or those with a travel bug. The fantastic collection of Classic Limoges Boxes offer an array of time-honored classic Limoges styles to charm any gift recipient.
Gifts for the Wine Connoisseur
Anyone who enjoys fine wines, will simply adore any of the wine Limoges boxes from the Wine & Spirits Limoges box collection at LimogesCollector.com. A Wine and Cheese Platter, a Bordeaux Wine in a basket or a Wine Cork Limoges box will make an impressive and unforgettable gift. The Champagne in Paris Bag or the Bordeaux Wine Bottle in Gift Bag Limoges boxes will make the perfect hostess gifts this Holiday season.
Whatever the taste and area of interest of the gift recipient, an exquisite hand-painted French Limoges box will make a truly memorable gift that will be loved, admired and displayed with pride.
About LimogesCollector.com:
For the past two decades, LimogesCollector.com's family of websites have provided collectors around the world with the finest French Limoges boxes in an array of styles and themes. Their extensive selection feature exquisite hand-painted porcelain Limoges boxes by top-of-the-line Limoges brands such as Beauchamp, Artoria, Rochard, and many more. From pouring the porcelain paste into the mold to the hand-painting and metalwork, every Limoges box they offer is crafted by master artisans in the Limoges region of France.
The company prides itself not only in offering the top brands of luxurious Limoges boxes but also providing superior customer care and speedy same-day shipping. A service especially popular with gift buyers is their artist hand-inscribed personalization. Many shoppers want to make their gift purchase even more personal and memorable by adding a message of their choice to their Limoges purchase, beautifully hand-inscribed by an artist. This service is performed in-house on a same-day basis.
For more information, please contact:
Customer Relations Specialists
LimogesCollector.com
310-390-7428
https://www.LimogesCollector.com
Source: Grand Dezign, Inc.
Related Media