HokuApps iPhone Apps Development Services Promise Fastest App Development
Press Release
•
updated: Apr 2, 2018
Create enterprise-grade apps on the HokuApps' iPhone apps development platform. iPhone apps garner 80% revenue in overall market comparison.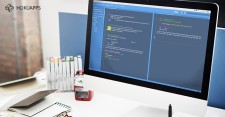 SINGAPORE, April 2, 2018 (Newswire.com) - It is a well-known fact that the smart-phone has revolutionized the consumer sector. The consumer, in this digitally-laden ecosystem, wants the end-user interaction to be as quality-driven as consumer-sector mobile apps are. Businesses are then faced with a question of investing in one or more OS platform. The answer is simple. iPhone app development services take the podium because of the ability for revenue generation.
Deniel Singh, Business Director, HokuApps – APAC region, Singapore, tells us, "iPhones garner more than 80% revenue though having a market share of less than 20%. This tells us that iPhone users don't mind paying a good amount for services provided as the app quality tends to be of really high-quality. This is the assurance that Apple provides consumers and industries alike."
By opting for HokuApps iPhone App Development Company, the demand for enterprise-grade iPhone apps can be met in short time-to-market, while saving a huge margin on costs. Most businesses, no matter the country or industry want to create mobile apps with respect to iPhone application development strategy.
In this way, businesses can keep the channel of communication open with customers, while garnering data and customized analytics in real-time on the HokuApps dashboard.
These iPhone app development services create applications for various industries like –
●Education
● Energy and Utility
● Insurance
● Manufacturing
● Media & Advertising
● Retail
● Telecommunication
● Transportation & Logistics
● E-commerce
● Healthcare
Deniel Singh reiterates, "As you can understand, no two companies are the same. Their business logic, work-flow, and services differ in so many ways. This is why every business needs custom iPhone apps development services to work for them… to fit into their exact business requirements. HokuApps then adds value to the UI/UX and functionalities offered to fit the business logic to improve productivity and maximize revenue generation."
Through the mobile app, Any business can engage clients with quality services and make the whole process simple and transparent. Increasing no of iPhone users give rise to the demand for iPhone Apps. Structured iOS mobile app development also allows businesses to implement functions as notifications, bug-fixes, and updates over-the-air (OTA). Alongside these features, a continuous communication channel between clients and business helps for developing better long-term relationships.
By keeping this channel open and safe, HokuApps iOS app development services offer banking-level security with 256-bit encryption. The data security system needs to keep all data safe from malware attacks and unauthorized access to mobile phones and other smart devices. Thus, keeping the channel of communication (for online payments and customer data) secure.
Hiring iPhone Application Development Services for your business can help the business save more on resources compared to the alternative that is to invest in people and technology in-house. This decision can leave many businesses on a short leash in terms of re-investments in the company. iOS App Development helps businesses save costs, allowing more leeway for the company to re-invest and growth.
A key factor that drives the growth of iPhone app development Company is the quality of iOS apps that are developed. It is a known fact that Apple is very strict in terms of UI/UX design, colour palettes, functionality and menu placement. Apple guidelines are extremely strict, and the process of submission and approval takes anything from 2 days to 2 weeks, based on the app.
With such quality-control in place, businesses need to invest in iOS mobile app development that is abreast of all the latest guidelines changes and have experience in submitting iPhone apps to the Apple App Store. With HokuApps, their iPhone application development team knows what it takes to create a successful iPhone application that is worthy of acceptance.
Deniel explains, "Getting an app published for distribution on the Apple App Store is no easy feat. Only the best quality apps, that fit in exactly with Apple's strict guidelines, get through the gates. HokuApps has developed the variety of iPhone apps that are available for download on the App Store. Talk to our experts. Let them demonstrate our capabilities and you will see immediately why we are the best at what we do."
And as technology-related trends progress from one point to another, HokuApps iOS app development services follow the path prescribed by Apple. Thus, keeping in wake of the latest technology trends that decide the fate of a business in this highly competitive ecosystem. Hire iPhone app developer is an easy task. But to find iOS app developers who have the capacity to understand and convert your unique idea to a full-fledged app needs experience, skills and access to cutting-edge technology.
HokuApps is here to create apps for businesses from any region of the world, for any industry. As a leading iOS app development company, HokuApps offers an enterprise-grade iOS app development that will power your business on the Apple App Store.
About HokuApps: HokuApps is the fastest growing mobile app development platform (MADP), helping businesses accelerate their transformation to the digital. The enterprise platform empowers businesses to innovate, modernize and transform at a rapid speed. Powered by pre-configured components, API integrations, and business modules, you can also hire an iOS App developer to create and integrate intelligent, agile solutions in sync with existing work-flows.
Source: HokuApps
Related Media
Tags
Additional Links