Hoffmann Brothers Partners With Nashville SC
Press Release
•
Feb 24, 2023
Becomes Official Home Services Provider with Local MLS Team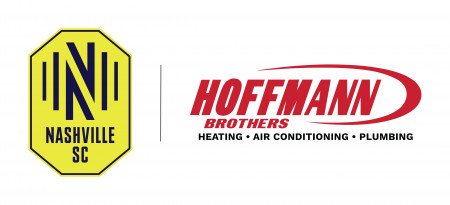 NASHVILLE, Tenn., February 24, 2023 (Newswire.com) - Hoffmann Brothers announced today the beginning of its official corporate partnership with Nashville Soccer Club, from Major League Soccer (MLS). Hoffmann Brothers is a local home service provider offering expertise in HVAC, plumbing, drains, sewers, water heaters, and more for residential and commercial properties.
"We are grateful for the opportunity to be partnered with Nashville SC," says Chris Hoffmann, President at Hoffmann Brothers, "an organization that shares our commitment to strengthening the Nashville community.
"As our business has grown, so too has our ability to fulfill our purpose of Improving Life in Every Home - to include the homes of our team members, our customers, and the homes of families that reside within the Nashville communities we serve."
Family-owned Hoffmann Brothers employs hundreds of team members throughout the Nashville Metropolitan Area. The company has served as a homegrown household name for more than 40 years, providing licensed professionals and customer-focused solutions for homes and local businesses.
In 2020, the same year that Nashville SC and the "Boys in Gold" joined MLS, Hoffmann Brothers opened doors in Nashville.
"Our partnership with Nashville SC is going to strengthen our ability to deliver on our purpose," Chris Hoffmann added. "We are proud to be the official heating, air conditioning, & plumbing partner of Nashville SC!
"Hoffmann Brothers strives to deliver an exceptional experience to our customers every day. We do that by attracting the most talented professionals in the home service industry. As a Nashville SC partner, our team has been energized and is excited to share in Nashville SC's commitment to strengthening our communities and making a lasting positive impact on Nashville and its residents."
For more information on the services Hoffmann Brothers provides, visit hoffmannbros.com/nashville or call it at (615) 515-3015.
Source: Hoffmann Brothers