History of Russian MiGs in the U.S. Revealed by the World's First Civilian Pilot to Own and Operate One
Press Release
•
Oct 25, 2022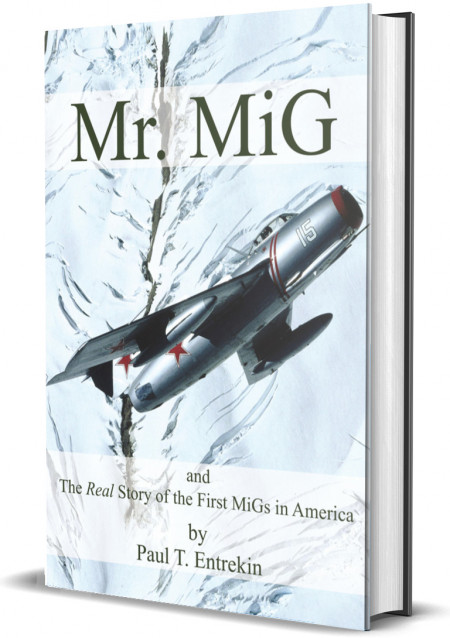 PENSACOLA, Fla., October 25, 2022 (Newswire.com) - In his second book, Mr. MiG and the Real Story of the First MiGs in America, author and pilot Paul T. Entrekin gives the reader firsthand knowledge of the mysterious Russian MiG - among the world's first jet fighters.
After serving from 1977-1986 in the United States Marine Corps as a both a rotary and fixed-wing pilot and flight instructor, Entrekin resigned his active-duty position and opted to retain a reserve commission. His post-military goal was to make a career in the airshow business.
A Canadian friend let him know that a man was about to import a few Russian MiGs into Ottawa. As Entrekin explains in his book, "[I] was searching for that X factor or niche that allows entry-level performers to get their foot in the door with show sponsors." Thus started his 20-year illustrious career with the notorious Russian jet, flying professionally at airshows all around North America while entertaining millions of spectators and setting multiple U.S. and world airspeed records.
The author gives the reader a bird's eye view of the challenges that it took to get a MiG pilot certification, assess and certify the safety of the aircraft, and overcome the general fear and prejudice of having a Russian jet in American airspace, even if it was being piloted by one of our own men.
This book is a must-read for anyone interested in aviation history, current aviation, fighter jets, MiGs, or the military.
Paul T. Entrekin, also known by the moniker "Mr. MiG," became a commissioned officer in 1977 in the U.S. Marine Corps and earned his wings of gold in 1980. After accepting a reserve commission in 1986, he worked as a clandestine operative for the Defense Intelligence Agency until his retirement from the service in 1991.
Also in 1986, he started Entrekin Aviation and flew his MiG in his first airshow a year later. In 1989, he accepted a position as a pilot with Delta Airlines.
Paul earned a bachelor of science from Auburn University and a master of education from University of West Florida. He is a member of the Society for Experimental Test Pilots, has received numerous civilian and military awards, and is recognized on the National Aviation and Space Exploration Wall of Honor.
Order Today for $0.99 promotional special on Amazon. Click Here.
Publisher: Paul Entrekin
Release date: Oct. 25, 2022
ISBN: 978-1-63337-678-6 (Paperback)
ISBN: 978-1-63337-679-3 (Hardback)
ISBN: 978-1-63337-680-9 (eBook)
###
Source: Paul Entrekin, author