Historic Inauguration for College of Saint Benedict and Saint John's University President Brian Bruess
Press Release
•
Sep 25, 2023
Bruess is the first in the country to serve simultaneously as president of two four-year colleges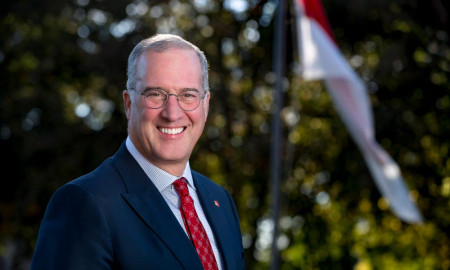 COLLEGEVILLE, Minn., September 25, 2023 (Newswire.com) - The College of Saint Benedict and Saint John's University (CSB and SJU) celebrated a historic moment on Sept. 22 with the official inauguration of Brian J. Bruess, Ph.D. Bruess was named to the position in March 2022 and began on July 1 of that year and is the first joint president in the 100-plus-year history of the schools.
On Friday, an inauguration Mass was held at the Sacred Heart Chapel at Saint Ben's, followed by an inauguration ceremony at the Abbey and University Church at Saint John's. Hundreds of students, faculty, staff, alumni and friends were in attendance to celebrate the milestone. Bruess is the first person in the country to serve simultaneously as president of two four-year colleges.
Bruess's appointment marked an important step in the implementation of a new governance and leadership structure for CSB and SJU. With a joint curriculum on separate campuses located six miles apart, the two schools have historically operated under separate governance boards. To reflect the student experience of unity between two schools, CSB and SJU now operate under a "Strong Integration" governance structure, designed to produce bolder strategies, greater innovation and nimbler decision-making.
"At a time when many higher education institutions are struggling, we are evolving for our students and our communities," said Bruess. "Our Strong Integration model celebrates our unity and what makes our schools unique. The student experience will continue to be the center of everything we do, and that is why the future of Saint Ben's and Saint John's is strong."
Prior to joining CSB and SJU, Bruess served as president of St. Norbert College, a nationally renowned Catholic liberal arts school in De Pere, Wisconsin. He previously spent 21 years in a variety of roles at St. Catherine University, a Catholic liberal arts women's institution in Saint Paul, Minnesota, including over three years as the school's executive vice president and chief operating officer.
"I see the inauguration of Brian as the ultimate celebration of what we have worked to achieve since the concept of Strong Integration was first hatched," said LeAnne Stewart '87, the chair of the CSB and SJU Boards of Trustees. "Recruiting a president who could lead our institutions forward, together, was a critical milestone. The inauguration is a community-focused celebration of Saint Ben's and Saint John's and all that we can achieve together."
About the College of Saint Benedict and Saint John's University
The College of Saint Benedict (CSB), for women, and Saint John's University (SJU), for men, are nationally recognized Catholic liberal arts colleges. They share one academic program, and students attend classes together on both campuses. This integrated learning experience combines a challenging academic program with extensive opportunities for international study, leadership, service learning, spiritual growth, and cultural and athletic involvement. For more information, visit csbsju.edu.
Source: College of Saint Benedict and Saint John's University