HistoGeneX PD-L1 IHC and CD8 Work in ABACUS Trial Presented at ASCO 2018
Press Release
-
updated: Jun 8, 2018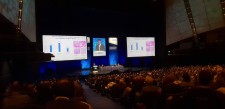 CHICAGO, June 8, 2018 (Newswire.com) - Abacus Trial presented at ASCO 2018: Neo-adjuvant immunotherapy in bladder cancer. Complete pathological response in bladder wall is related with the PDL1 status and opens opportunities to understand biological mechanism of action.
Thomas Powles (MD, Barts Cancer Institute, Queen Mary University of London, London, United Kingdom) presented the initial results of the ABACUS phase II trial assessing atezolizumab as neoadjuvant therapy for patients with MIBC and ineligible for cisplatin. This single arm, investigator-initiated phase II study investigated two cycles of atezolizumab (1200mg every three weeks) prior to radical cystectomy among patients with T2-4N0M0 urothelial carcinoma. The co-primary endpoints for the study were pathologic response and increase in CD8 count as a biomarker analysis. Powles and collaborators reported complete pathologic responses in 29 percent of patients, which enriched to 40 percent in PD-L1 expressing patients.
A CD8 assessment method was developed by HistoGeneX Global Laboratories using a duplex panCK-CD8 immunohistochemistry (IHC) test. Using this method, the presence and density of infiltrating cytotoxic T-cells can be detected and measured in either the intratumoral stroma or the tumor regions. In the ABACUS study, responding patients showed at least a doubling of mean CD8 count and overall, the mean CD8 counts increased from 500 to 952 from pre- to post-treatment patients. "The sequential biomarker analysis showed tantalizing upregulation of CD8, an indicator of the dynamic biology of the disease and underpins the mode of action of atezolizumab in bladder cancer," said Dr. Powles. "This study powerfully demonstrates the powerful value of biomarker analysis to understand the biological mechanisms in action," agreed Dr. Mark Kockx, CEO & Medical Director of HistoGeneX.
Study investigators organized shipments of patient biopsies to HistoGeneX Laboratories where both the PD-L1 and panCK-CD8 assays were performed. Dr. Powles highlighted that investigator-initiated studies are often complex and praised the participants including "the HistoGeneX team who did fantastic work of the biomarker work."
About HistoGeneX
HistoGeneX Laboratories (www.histogenex.com) is a CAP, CLIA, and BELAC-accredited global laboratory system located in Antwerp, Belgium and Naperville, Illinois, USA. HistoGeneX serves pharma and biotech drug development sponsors worldwide.
All HistoGeneX services and products stem from a pathology and patient care perspective. We expertly handle human biological specimens and employ innovative technologies to analyze and understand cancer for research and diagnostic applications. Our deep pathology foundation brings a real-world approach to drug development biomarker programs — a critical element within personalized medicines such as immunotherapy.
HistoGeneX Laboratories employs multiple PMA-class companion diagnostic programs. Our leadership has created and participated in the industry's most significant targeted and immunotherapy biomarker programs in order to provide the highest quality products and services to our customers.
Source: HistoGeneX
Share:
---
Categories: Cancer/Oncology
Tags: ABACUS, Bladder Cancer, CD8, Checkpoint receptors, HistoGeneX, Immuno-Oncology, Immunotherapy, MIBC, PD-L1, Powles
---