Hiscale Joins SRT Alliance With Its Elastic Transcoder FLICS
Press Release
•
updated: Aug 30, 2018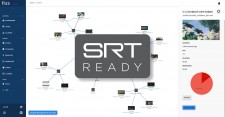 COLOGNE, Germany, August 30, 2018 (Newswire.com) - Hiscale, specialists in high-performance hybrid video transcoding solutions, announced they joined the SRT Alliance, the open-source initiative dedicated to overcoming the challenges of low-latency video streaming.
"By implementing the SRT protocol into FLICS, our hyper-scalable Elastic Transcoding Cluster, we can securely receive or transport streams over unreliable networks to process them on-premise, in the cloud or in a hybrid environment," said Tilo Skomudek, CEO at Hiscale. "Especially in cloud-centric workflows, using the FLICS transcoding platform, we see it is crucial to have a reliable and secure transport protocol to handle network jitter. This is why we support the SRT Alliance and have chosen to implement SRT in our product."
With a state-of-the-art architecture and support for commonly required codecs and formats, Hiscale's transcoding solution FLICS excels with functionality, performance, cost-efficiency and flexibility. For customers and partners, content owners and media companies, FLICS enables flexible business models with cloud-based, local or hybrid processing and CapEx or OpEx licensing models.
"With the SRT Alliance, Hiscale has joined an industry movement that is improving the way the world streams video," said Sylvio Jelovcich, vice president of global alliances at Haivision. "We are very pleased to see more and more SRT Ready solutions, like FLICS, coming to market, helping build out the SRT ecosystem, each with their unique solution."
Visit Hiscale in booth #2.A24 at IBC 2018 to learn more about FLICS elastic transcoding solution and our other products.
Join the SRT Panel Discussion at IBC 2018 - Sign up here.
About the SRT Open Source Project & SRT Alliance
SRT is an open source video transport protocol and technology stack, developed and pioneered by Haivision, that optimizes streaming performance across unpredictable networks with secure streams and easy firewall traversal, bringing the best-quality live video over the worst networks. The SRT Open Source Project, driven by the SRT Alliance, is a collaborative community of industry leaders and developers striving to achieve lower-latency internet video transport by continuously improving open-source SRT. For more information about the project and how to join the SRT Alliance, visit srtalliance.org.

About Hiscale
Hiscale designs and develops high-performance, scalable software products for the expanding markets of video preparation, conversion and distribution. We leverage the latest technology to ensure that solutions meet the rigorous demands for rapid implementation and cost-efficiency.
For customers and partners, content owners and media companies, Hiscale enables flexible business models with cloud-based, local or hybrid consumption of technology as managed services.
At the center of the Hiscale portfolio is the video transcoding platform FLICS, which can process hundreds of live programs or files optimized for the highest bandwidth with minimal hardware use.
For more information, visit www.hiscale.com.
Media contacts
Hiscale
Christoph Jurkuhn
+49 221 42324560
christoph.jurkuhn@hiscale.com
SRT Alliance
Anna Kozel
1.514.586.2662
akozel@haivision.com
Source: HISCALE
Related Media
Additional Links