Hippocrates Health Institute's Free, Annual Raw Fest From 10-4 P.M., on February 29
All proceeds, including vendor fees, money from meals, drinks, etc., will go directly to the Hippocrates Scholarship Fund
Press Release
-
updated: Feb 20, 2020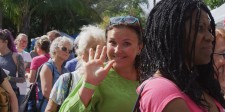 WEST PALM BEACH, Fla., February 20, 2020 (Newswire.com) - .​​​​​​​​​​​​​Hippocrates Health Institute is hosting their 17th annual Free Raw Fest from 10-4 p.m., on February 29.
The theme this year will be, "Make the Leap into Raw Vegan Living" at Hippocrates.
All proceeds, including vendor fees, money from meals, drinks, etc., will go directly to the Hippocrates Scholarship Fund so that they can make it possible for people in need of assistance to be able to participate in their health, wellness and longevity programs.
Below are just a few things visitors can look forward to for free!
·         Educational lectures by industry wellness leaders
·         HHI Approved health and wellness vendors
·         Raw Vegan Cuisine
·         Kids activities
·         Fitness classes
·         Music & entertainment
Register today! https://hippocratesinst.org/rawing20
Are you a vegan-friendly business? Great! They would love to have you! 
Last year, they had more than 2,000 visitors, and this year promises to be even more exciting, with visitors enjoying great food, great music, great information and learning more about what they do at the Hippocrates Health Institute. 
The Vendor Donation in its entirety will go directly to the Hippocrates Scholarship Fund, as does the money they collect from meals, drinks, etc.  
Vendor opportunities start at $150 and go up to $500 to be an exclusive Vendor. 
Even if you can't be there as a vendor, you can make a one-time tax-deductible donation of $300 to help support their Scholarship Fund. Please email twilson@hippocratesinst.org if you are interested in being a vendor or donating to Hippocrates' Free Raw Fest fundraiser.
ABOUT HIPPOCRATES HEALTH INSTITUTE:
Hippocrates Health Institute (HHI) first began more than 60 years ago by visionary and humanitarian Ann Wigmore, who developed a simple concept first voiced by Hippocrates, the father of modern medicine, nearly 2,500 years ago: "Let food be thy medicine and medicine be thy food." The commitment to this inspired truth is embodied in Hippocrates Health Institute, a non-profit organization established in 1980.
(HHI) flourishes within a lush, tropical 50-acre setting in West Palm Beach, Florida. Under the guidance of a knowledgeable and compassionate team, guests from all over the world benefit from health and nutritional counseling, non-invasive remedial and youth-enhancing therapies, state-of-the-art spa services, inspiring talks on life principles and a tantalizing daily buffet of enzyme-rich, organic meals.
The goal of the institute is to assist people in taking responsibility for their lives and to help them internalize and actualize an existence free from premature aging, disease and needless pain. Additionally, their over-arching mission is to fight the devastating events of climate change through educating people on the benefits of living a raw, vegan life.
For more information about Hippocrates Health Institute, visit: https://hippocratesinst.org/ or call directly at (561) 471-8876. Hippocrates Health Institute is located in West Palm Beach, Florida.
# # #
Source: Hippocrates Health Institute
Share:
---
Categories: Active and Healthy Living
Tags: festival, healing, hippocrates, holistic, vegan diet, vegan festival, vegan retreats
---
Related Files
Additional Links